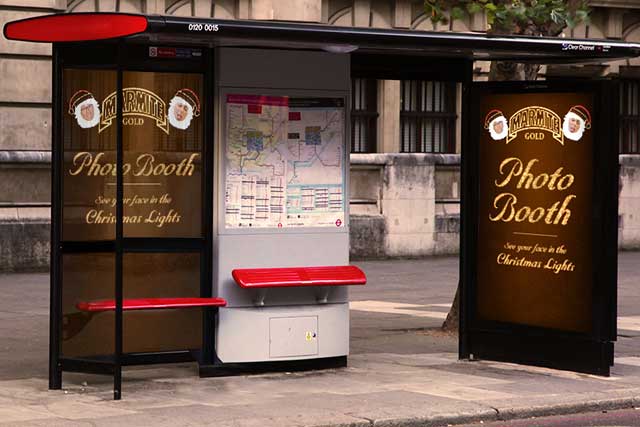 The bus shelter has been converted into a gold photobooth by digital agency Kinetic and its creative division Fuel, with addition support by Grand Visual, DDB and Clear Channel.
Consumers can take pictures of themselves showing either their love or hate of Marmite, with the choice to upload the images onto a digital screen that has been erected as part of the brand's sponsorship of the Oxford Street Christmas lights.
The booth will be active for 12 days as part of the four-week Christmas activity, which features a series of Christmas characters, including elves and Father Christmas, revealing their love or hate of the brand.
Joanne Ó Riada, brand manager, Marmite, said: "Marmite's sponsorship of the Oxford Street Christmas lights is a great way for us to reward our loyal fans for their support and the addition of the bus shelter is another way to reach fans and give them a moment of fame.
"The shelter will attract existing Marmite fans and consumers looking for something special to trial over the festive period."
Follow @loullamae_es