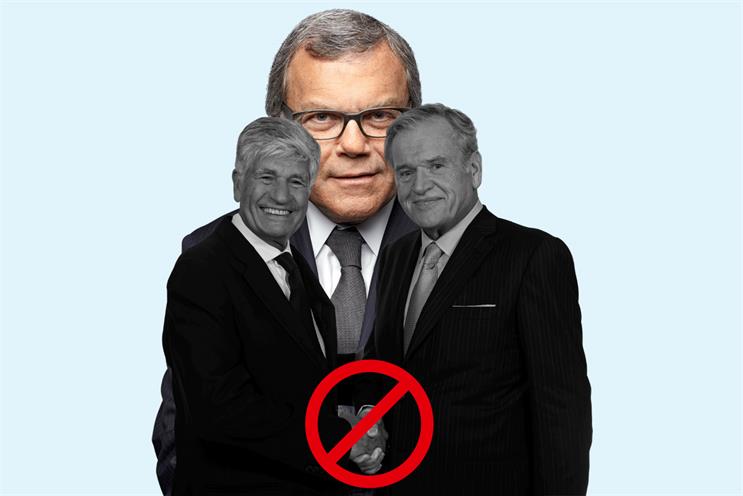 The dramatic implosion of the Publicis Groupe and Omnicom merger has left reputations battered and the future of the two companies uncertain. It all started so very differently.
Before a black-tie Solus Club audience at The Dorchester hotel in May last year, Maurice Lévy was his usual suave combination of wit and charm.
Capturing the Publicis chief executive as a guest speaker was a coup for the club. And Lévy didn't disappoint, telling tales of his mentor, the Publicis founder Marcel Bleustein-Blanchet, offering his take on Britain's future in the European Union and even having a dig or two at his old adversary, WPP's Sir Martin Sorrell.
What his audience couldn't know was that Lévy, 72, had just embarked on what he believed would be a spectacular final curtain call that would not only be a marcoms game-changer but secure his place as an industry iconoclast.
But what began as a jokey suggestion to John Wren, his Omnicom counterpart, about a possible merger of their two groups to create the world's largest marcoms leviathan has proved not to be funny but bitterly ironic.
The global industry may be about to be reshaped as a result of last week's dramatic events – but not in a way that Lévy could either have envisaged or wanted.
The only one left laughing is Sorrell. The collapse of the $35 billion deal that would – by Lévy's admission – have left Bleustein-Blanchet "turning in his grave" is keeping WPP firmly at the top of the tree. As one commentator puts it: "Sorrell will be grinning ear to ear for some time to come."
And if the collapse of the proposed marriage has not resulted in the recrimination that characterised the ending 19 years ago of the global alliance between Publicis and True North, the embarrassment is no less palpable.
In such circumstances, Sorrell might be forgiven for his schadenfreude and his cocky observation that, in trying to knock WPP off its branch, Publicis and Omnicom showed that their "eyes were bigger than their tummy".
Tech competition
Certainly, the merger that was intended to turn the two groups into more potent performers in digital and provide them with more clout to compete with the likes of Google and Facebook for ad budgets was looking increasingly indigestible.
Wall Street never took to the idea, believing that the proposed £325 million in savings was small given the size of the deal. At the same time, clients raised concerns not only about the increased power the group might have but also the significant client conflicts.
"This merger was always going to be an unlikely one," Ian Twinn, the director of public affairs at ISBA, says. "We believe many advertisers will be relieved both groups have, through mutual agreement, taken into account the potential impact the merger would have had on their clients and the market."
The humiliating end to the story highlights, according to some observers, the dangers of trying to do a deal that looks good on paper but is devilish in its detail. As a result, Lévy and Wren both have big damage-limitation jobs to do.
"There could be a serious loss of credibility for both of them," Keith Hunt, the managing partner at Results International, warns.
Client issues
The former global boss of a rival network believes the rapport of both groups with their clients is bound to be affected. "Relationships with clients will be more difficult because Wren and Lévy had been telling them the merger was a good idea," he says. "Now they're having to tell them it isn't. This may not necessarily cost them business, but it will undermine their plausibility."
A variety of practical and emotional obstacles have been put forward to explain why the proposed marriage foundered. A major snag was the tax issues thrown up by the alliance, which could not get approval to have tax residency in the UK while being headquartered in the Netherlands.
"This was the deal-breaker," Bob Willott, the editor of Marketing Services Financial Intelligence, says. "The more time it took to resolve the issue, the more the deal looked unsustainable."
Hunt says: "There are parallels to be drawn between this deal and AstraZeneca and Pfizer. As the Publicis/Omnicom saga shows, tax and regulatory issues can be a key factor in deals coming apart."
The battle between the two parties over who would fill the role of chief financial officer – Omnicom's Randy Weisenburger or Publicis' Jean-Michel Etienne – only fuelled the flames. This would have been a key appointment, determining whether the operation would follow Publicis' centralised structure or Omnicom's less controlling approach to subsidiaries.
The Publicis strategy has led to it achieving higher operating profit margins than Omnicom – 16.5 per cent last year compared with Omnicom's 12.5 per cent.
Cultural divide
In the end, though, it was the cultural chasm that proved too wide. Lévy always resented what he believed were attempts by Bruce Mason, the True North chief, to control Publicis and was fearful that Wren was preparing to do the same. "We never envisaged anything but a merger of equals," Lévy told a French business TV channel. "A takeover was unacceptable to me."
However, having decided that the merger presented challenges that were impossible to overcome, both parties face new problems.
Nowhere more so than at Publicis, where the succession plan will have to be rethought. A merger would have resulted in an initial 30-month dual leadership between Lévy and Wren, 61, with the latter then becoming the sole chief executive.
Now, with Jean-Yves Naouri, Lévy's erstwhile heir apparent, reportedly alienated by recent events, the way may now be open for Arthur Sadoun, the Publicis Worldwide chief executive. "He'll be ecstatic," a source says.
Andrew Robertson, the worldwide boss of Omnicom's BBDO who is tipped as Wren's successor, may also feel the path to the top is suddenly looking clearer.
Sorrell will be grinning from ear to ear for some time to come
Nevertheless, onlookers are forecasting staff and client fallout at both groups.
Hunt says: "There are likely to be some senior executives who may decide to try the independent route, either by establishing their own start-ups and taking clients with them or by taking stakes in independent agencies that may be courting them."
Some commentators suggest that what has happened may lead to yet another bout of consolidation. This, though, is not expected to involve Omnicom. Wren is said to be cautious about big deals after a class action brought against the group in 2002 over its acquisition accounting.
And with speculation rife that Vincent Bolloré, Havas Worldwide's main shareholder, is preparing to fold Havas into the French media giant Vivendi, where he is set to become the chairman, attention will inevitably focus again on Interpublic as a takeover target.
Could that mean a tug of war between Publicis and WPP, with IPG as the prize? Some believe it's a real possibility, with Lévy still prepared for one last hurrah and not wishing a failed Omnicom merger to be his epitaph.
Others aren't so sure. "The fact that this is the second time a Publicis deal with a US partner has failed won't be lost on the group's shareholders," a former Publicis senior executive points out. "Lévy's charm doesn't always lead to a happy ending and, if he decides he wants to go for IPG, those shareholders may ask if he's getting a bit old for this kind of thing."