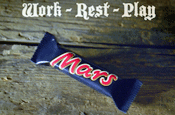 The line, which was accompanied by the memorable "A Mars a day..." jingle, ran throughout the 60s, 70s and 80s, and was finally pulled in 1995.
In a bid to contemporise it, the line has been reduced to "work, rest, play" in a new TV ad that makes its debut on 2 March.
The spot shows a group of bored monks taking a break from bell-ringing and eating a Mars bar each before restarting their work much more enthusiastically to the tune of House of Pain's Jump Around.
Caroline Jary, the Mars brand manager, said: "We echoed the strapline because it's part of the brand heritage. The updated message helps communicate the brand values as much today as in yesteryear."