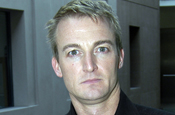 Marsh will join Rebecca Morgan, the managing partner strategy, Ian Courts, the managing partner finance, and the yet-to-be-appointed managing partner creative in the new management line-up.
Marsh's promotion coincides with the resignation of Tom Nester-Smith, Lowe London's client services director, who has led the account management department since he joined the agency in October 2007.
Lowe is currently talking to candidates for the final managing partner creative role, left vacant following the departure of the former executive creative director Ed Morris earlier this month.
Marsh started his career at Ogilvy & Mather in South Africa in 1991 as an account executive. He moved to London in 1997 to join BMP DDB and later joined Claydon Heeley, Euro RSCG and then Lowe Worldwide in autumn 2006.
Since then, Marsh has been responsible for expanding the network's Unilever Foods portfolio. Last year, he led the teams that won a large portion of Wall's ice-cream business and the $100 million global Knorr account.
In his new role, Marsh will continue to run the Knorr account alongside his managing director responsibilities.
Tony Wright, Lowe Worldwide's chairman, said: "Robert is a smart operator with a proven track record.
"His role will focus on making Lowe a strong offering in London and within the Lowe network."
Marsh added: "The focus now is to make the London offering relevant and world-class. It is time to knuckle down, focus and then measure us by our results."