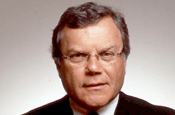 WPP yesterday announced that it has decided to set up a new parent company in Ireland due to the threat of changes to UK tax law.

The changes could see UK companies taxed on profits made overseas.

Speaking on BBC Radio 4's Today Programme, Sorrell said: "It was a significant economic decision. It is a difficult decision but it was one the board felt it had to make in the interests of shareholders."

Sorrell said that 85 per cent of the company's profits came from outside the UK and that the decision to relocate could save WPP up to £70 million per year.

He added that there would be no threat to the position of the company's 11,500 employees based in the UK.