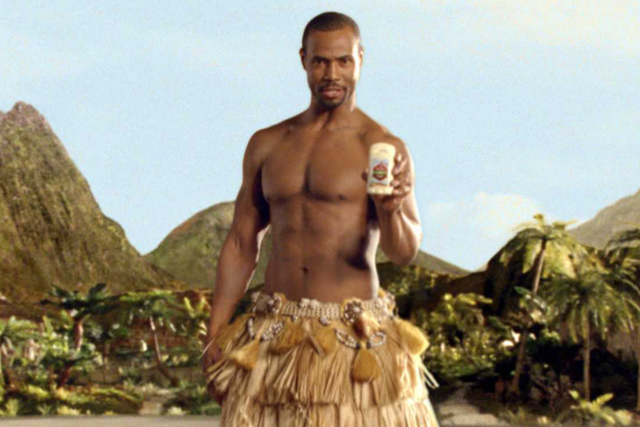 After investing more than £80 million in meerkat campaigns over the years and earning the company's founder more than £220 million, it was believed that Aleksandr and friends were being phased out in favour of Robert Webb.
The meerkats are not the only mascots to have reaped major profits in recent years. Old Spice's Isaiah Mustafa, who now seems to have moved aside to let other quirky protagonists take his place, achieved unprecedented success for what was an outdated body-wash brand.
Six months after his initial appearance at the 2010 Super Bowl, reports suggested that Mustafa earned the brand a 100 per cent rise in sales, while consumer engagement with the brand sky-rocketed.
Mustafa and Aleksandr show how great ideas can go beyond advertising and become part of consumers' lives; ideas that they find entertaining and want to share – in ads, social media and even merchandise.
Mascots can breathe life into brand personalities and create a level of brand awareness that a logo simply cannot achieve.
But while using mascots can bring success both financially and in terms of recognition, it also raises some questions. When the going is good, brands run the risk of riding the wave for too long and boring consumers.
That's something Old Spice arguably avoided by introducing new elements, facets and characters to the Mustafa activity through digital and social media.
The "duel" between Mustafa and Fabio yielded 3.2 million YouTube views within just one day of airing, making the brand's channel the most-viewed at the time.
Meanwhile, digital was central to Comparethemarket.com's ad campaigns, driving an increase of around 80 per cent in traffic to the price-comparison site after two years of launching.
Of course, some brand mascots have been around for a considerable length of time – the Michelin Man first appeared more than 100 years ago, a Labrador puppy has featured in Andrex advertising for 40 of the brand's 70 years and, in an extreme level of consistency, the same actor played Captain Birdseye for Birds Eye for 30 years.
Many of these mascots become synonymous with the brands, and the likelihood of dropping them from marketing activity becomes a delicate balance of maintaining the expectations of loyal customers and evolving to attract new ones.
Some brands confront this dilemma by reinstating beloved characters for a limited time via new ad strategies.
Dulux brought back its old English sheepdog for its 50th anniversary after a 15-year absence; Cadbury's Caramel Bunny returned to our screens after eight years in 2009 and 2010 for Easter campaigns; and when the going got tough for Tetley when it slipped to Britain's number two tea brand in 2010, its Tea Folk were brought back to coax the public back to the brand.
For other brands, social media is the key to mascot "rebirth" and allows the character to develop its own personality and become a digital face – and voice – of the brand. Aleksandr communicates with a remarkable 804,000 Facebook fans, while the Andrex puppy boasts a following of more than 480,000 on the networking site.
Perhaps most impressive, though, is Flo, "Progressive's always-happy-to-help insurance clerk", who was introduced in the brand's US advertising in 2008. With a Facebook fan base of 4.9 million, growing from just over a million in 2009, the character engages daily with her followers with posts that combine witty takes on topical events, her loves and hates and other ramblings.
Mascots are arguably helping to build value for brands, but the key to their success lies in listening to consumers. When the public tires of characters who have run their course, the benefits of a change in direction need to be addressed. However, when nostalgia calls (especially in times of economic decline, when consumers are hankering after the familiar), bring them back for long enough for the audience to remember the good times, but not so long that fondness returns to indifference.


An emotional and financial investment
Neil Dawson, executive creative director, BETC London
I was fortunate enough to work for the king of mascots, John Webster. I grew up with his Cresta bear, the unseen Humphreys for Unigate milk and, of course, the Smash Martians.
It's a big call for a client to invest emotionally and financially in a fluffy gonk, but no-one disputes its value or longevity.
I judged British Arrows fairly recently and was fascinated to see Webbo's mascots still featuring: the Honey Monster; Walkers "no more Mr Nice Guy", which, of course, is Gary Lineker in the UK; and John Smith's "no nonsense", which originally featured ladybirds before evolving into penguins with Jack Dee and, finally, Peter Kay.
One thing of importance is keeping mascots relevant. That was our challenge with Diet Coke's "hunk" ad. Our new hunk is not the beefcake who appeared first in the 80s, but he seems to have struck a chord with the ladies.

Ebiquity provides independent advertising insight and data to help advertisers improve their media perfromance. Go to www.ebiquity.com to find out more.