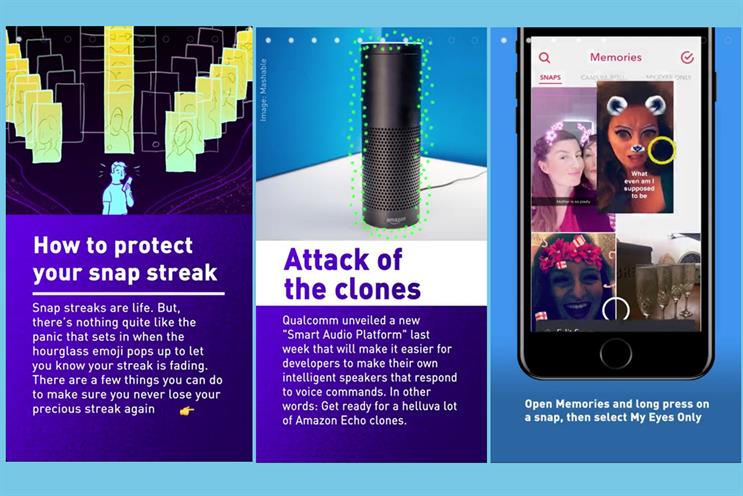 Produced by Mashable's London based team, and led by its UK editor, Anne-Marie Tomchak, the new Mashable Discover channel will focus on digital culture and technology. It will create daily editions for the UK Snapchat audience.
"As one of Snapchat Discover's top performers worldwide, we're very interested in building local audiences," Gregory Gittrich, chief content officer of Mashable explained. "There are ten million daily Snapchatters in the UK and they represent a young, influential and very hard to reach audience."
The content is "high energy", short, and a combination of image, animation and video, Gittrich added.
To date, Snap has launched Publisher Stories with local media companies in the US, UK, Norway, Germany, Australia, France, and the Middle East, and will continue to expand with local content partners in these and other markets.
In the UK, its publisher deals include the likes of The Telegraph, The Economist, BuzzFeed, Harper's Bazaar and Cosmopolitan. Snap plans to bring additional publishers on board in the UK in the coming months.
Earlier this morning the tech company announced a global media spend and content deal with Time Warner.
'Highly profitable' partnership
While Gittrich could not share specific numbers, he did disclose that Mashable views Snapchat as "the best platform for premium publishers" and that it was "highly profitable and generates revenue into the millions".
"Engagement on is off the charts. Half the audience who visits Mashable on Snapchat Discover checks in three out of seven days of the week, and many complete the entire edition every time," Gittrich said. "And we reach millions every month".
Mashable monetises its content on Snapchat by selling takeovers of specific editions. "In those scenarios, brands do not influence the content but they have the opportunity to have their ads featured," Gittrich said.