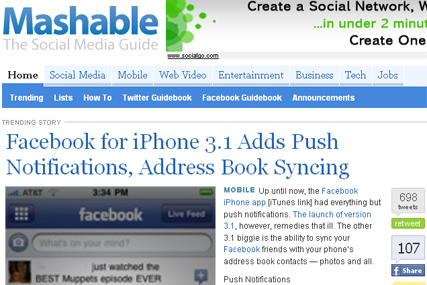 Early reports on Gawker's Valleyway blog suggested that AOL was in talks to buy the blog, set up by Brit Pete Cashmore in 2005. It has since become one of the top ten biggest blogs in the world.
Valleyway quoted sources that said AOL and Mashable had been in talks although neither side were offering much other than "no comment".
Cashmore, to Valleywag, said: "We don't comment on speculation, but we do hold our writers in high regard and pay a competitive salary for their tireless efforts."
Further credence was given to rumours that claim some kind of deal was in the offing. Tech blogger Robert Scobble tweeted that his sources had confirmed "that Mashable is being sold to AOL".
However, later reports from various sources suggested that Mashable and AOL might not be in talks about a sale but about an advertising partnership instead. Mashable's current ad network deal with Federated Media is due to end in a couple of months.
What is certainly true is that Mashable, which last year surpassed TechCrunch to become the world's biggest tech blog, is exactly the kind of content that AOL CEO Tim Armstrong would like to see as part of his company.
When Armstrong took over AOL he began a mission to reshape the business into a content company.
AOL has been launching a string of new blogs building on those it already has. These have included Politicsdaily.com, gossip site TMZ and tech blog Switched.
Mashable has proven a massive hit partly through its heavy focus on social media and success on networks like Twitter where it has more than 1.8 million followers.
Its content is heavily retweeted with stories enjoying hundreds and sometimes more than a thousand retweets, driving large amounts of traffic back to the site.
In the process the success has turned Cashmore into a tech circuit star. Last year he was named the most influential Twitterer in Britain. He has also been named in Forbes' list of 25 Web Celebs and as one of its 30 Under 30.
The possible deal with Mashable comes against a backdrop of thousands of job cuts at AOL as Armstrong reshapes the company.
More an a thousand job cuts are expected at AOL this quarter following thousands of job cuts last year. In December AOL was spun out of media giant Time Warner.