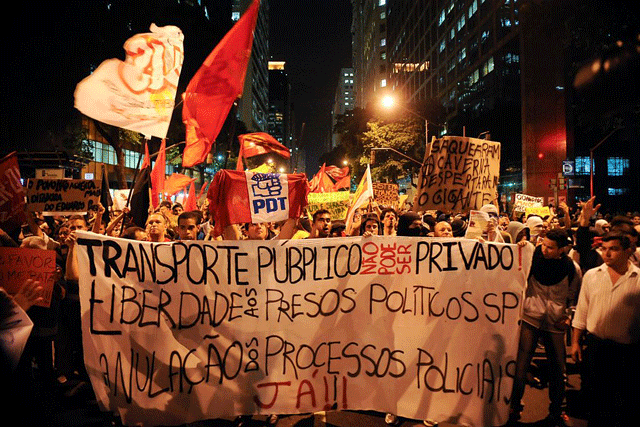 Brazil saw mass protests last week, the largest in the country since 1992. Last Thursday, an estimated one million Brazilians took to the streets to voice their anger with current government policies.
The initial catalyst was an increase in public transport prices (since rescinded), but the continuing movement is now centered on a wider set of social grievances, including education, health and corruption.
Tellingly, the protests have fallen at the time of the Confederations Cup football tournament – a smaller dress rehearsal for the 2014 World Cup. Fifa, football's global governing body, has become a target of the protesters, with mobs throwing stones at their offices and Confederations Cup placards being torn down.
Many Brazilians are furious that the government is coughing up 31bn reals (£9bn) to stage a one-off tournament, while crucial social investments are being ignored.
A year out from the 2010 tournament in South Africa, brands such as Castle Lager and BP were effortlessly leveraging local pride and excitement. The situation in Brazil is far less rosy.
For marketers banking on the World Cup there is cause for concern. A year out from the 2010 tournament in South Africa, brands such as Castle Lager and BP were effortlessly leveraging local pride and excitement. The situation in Brazil is far less rosy.
Former Brazilian playing legends Pele and Ronaldo have found themselves on the wrong side of the demonstrations. Pele, the brand ambassador for Visa and supermarket brand Carrefour, told locals to leave football out of the protest agenda. While Ronaldo, a multiple brand endorser, made a clumsy attempt to insulate the sport, with his heavily derided comment: "A World Cup isn't made with hospitals, my friend. It's made with stadiums."
Current stars
The angst directed against Brazil's national game also includes current stars. National team player Neymar is recognised as one of the world's most marketable athletes after his high profile €57m transfer to marquee club Barcelona. The use of Neymar for marketing purposes in Brazil is close to total saturation, a phenomenon a local paper termed "Neymarketing".
However Neymar's widely reported playboy image has increasingly made him a symbol of excess. A rallying cry of recent protests included "Brazil, let's wake up, a teacher is worth more than Neymar" – highlighting the perceived underinvestment in the nation's education.
In this context, television ads launched for the Confederations Cup present a confusing image to local audiences.
Both Adidas and Coca Cola are running high-octane campaigns, featuring exploding bottles and youths running through heavily coloured fog – mimicking the violence and tear gas explosions associated with demonstrations. Brands are caught in the conundrum of drumming up excitement when the current excitement is against the football, rather than for it.
In a more encouraging sign for marketers, protesters have used advertising to create messages. A trending online video remixes the music of a recent Fiat ad and the slogan and imagery of Johnnie Walker's local campaign.
Fiat provides the catchy ditty "Come to the Streets", while Johnnie Walker provides the national character of an "awoken giant", an anthropomorphism of Rio de Janeiro's famous Sugar Loaf Mountain rising defiantly like King Kong. The video ends with the whiskey brand's signature call to action edited to "Keep Fighting, Brazil".
While Fiat has been quick to come out in the local media to say its campaign was only directed at Brazilian's passion for football, Johnnie Walker has been happy to sit back and enjoy the fact its brand is being associated with local's desire for progress.
This example is instructive in terms of the immediate future of marketing in Brazil. Brands will have to make a clear decision on whether they want to be part of the discussion about change, or if they want to play it safe.
Those erring on the side of caution will risk being caught off-side with a public impatient with the status quo. If brands are brave enough to expand their message beyond sport, they can capture the powerful sense of national aspiration that motivated the protests.
Hearing the protest chants from my apartment as I write this, I would advise brands best be brave.