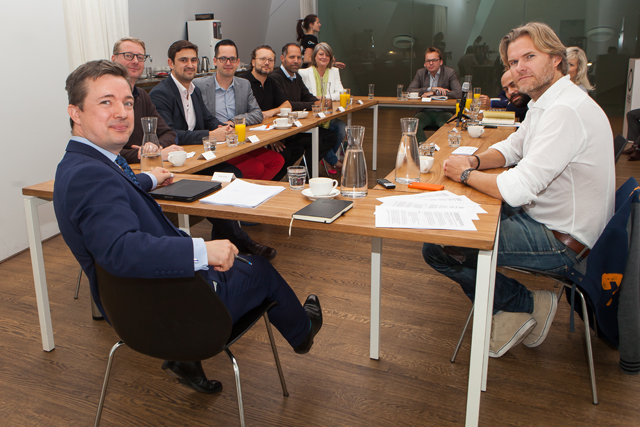 For our return visit to Amsterdam, we brought in the clients. Global heavyweights Jeremy Brook from Heine­ken, an Aussie landed down in the Dutch capital, and Holland's homegrown Frank Pynenburg from Philips collaborated with agencies in a frank and free-flowing discussion. Here are some highlights.
The client challenge: losing control, budgets and a point of view
Jeremy Brook: The biggest challenge for brands is the lack of control.
It used to be really simple. You'd roll up to an agency, pay the money and, nine months later, there was an ad in the can and, nine months after that, brand-tracking would show how brilliant you were – hopefully. The era of complaining or navel-gazing is over. There is now a decisive choice for brands and agencies about whether they are going to embrace this lack of control and win with it. Twelve months ago, a lot of people would have liked to just turn off social media.

Frank Pynenburg: Pressure on budgets is what we also face. A business manager will say: "I need a campaign and the objective needs to deliver within three or six months." There is a lot of discussion internally about whether we can drive results faster and it puts pressure on how we work with agencies.

Bart VanderVliet: That resonates with me because in that question is part of the answer: he asks for a campaign and, five times out of ten, what you need is not a campaign. That is one of the paradigms we need to change to help give brand marketers some control back.

Simon Wassef: It's about challenging the assumption of what agencies are "meant to do". At Sid Lee, we try to leverage some creative thinking and ideas in spaces that were traditionally more difficult for agencies to elbow into, such as the supply chain.
Jacco ter Schegget: Our job together is to start changing the dialogue. My creatives, technologists and strategists are craving to be briefed with a business problem, not a communications problem.


Jane van Kampen: It's about collaboration, the need to be a strategic partner and be involved early on in solving business problems.

Joost Perik: Sometimes you are not allowed to ask the big questions – that's for the board. So we have set up a consulting firm that only tackles "boardroom brand puzzles". There are many brilliant marketers who know that, for political reasons, they can't sell agencies' solutions to their organisation. Bypassing this gets us into the boardroom.
Jon Haywood: Maybe this is seen through a North American lens. Advertising, the ways we are having to talk to consumers and the channels we are using are all changing, but clients are still set up quite traditionally, aren't they? Clients are having to rethink the way their infrastructure is organised. If we are still briefed on the television piece and on the digital piece, then we will always respond in that way.

Pynenburg: We now only have campaign managers responsible for an ecosystem, not above-the-line and below-the-line managers.

Stefan Hawes: It goes much deeper than that too. Every agency in the room is in the business of building long-term relationships with clients – that's what we have got to do. But there is a panic that, if we do what we're asked, we won't be able to deliver the results. And it's not just about bringing together above and below the line, but also that our solution might be inherent in the product or the customer-service side.

Kerrie Finch: Collaboration is a beautiful thing and we should all hug it out. But the other side of that is the issue of ownership of the idea and answering the brand problem. Who is leading collaboration? The brand? The agencies? Because brands are fickle these days: they have a wealth of opportunity and agencies have to prove themselves – and that gets difficult and dirty. We are all sitting here loving each other, but who owns what does cause difficulties.
Kirk Johnsen: I wanted to build on what Jeremy said about control because the democratisation of media has led to it, but there is another aspect. There is a desire for global consistency but also local relevancy, and it becomes more acute as the world gets smaller and cultures aren't changing as fast. So you see multi­nationals do this accordion thing as their marketing department centralises and decentralises as they work out the best model to do that. What I fear is brands losing a point of view as they try to be everything to everybody – when they try to be super-local, they can lose consistency.

Patrick Garvey: For me, the client challenge is all about balance. I have noticed clients struggle to balance issues of sales versus long-term brand affiliation derived via the content people want to have from a brand. This is a balance that we might not have got right.
Democratisation of ideas
Brook: No doubt you are going to find Fortune 500 companies in organisational redesign, and Kirk's point about the accordion effect is really well-expressed. Agencies arrange themselves around how clients are structured and, all of a sudden, brand builders are under a huge amount of pressure to modernise themselves. That has directly affected the way agencies think, act and behave. For me, the democratisation of control is also the democratisation of ideas. The ad industry probably tried to trademark the word "idea" before anyone else did because the scientists were too busy inventing things to do so. And that is also a challenge.

Ter Schegget: I think we should look at the use of the words "brands" and "clients". Because we are also the brands. You guys call yourselves advertising agencies [Murmurs of disagreement around the table]. We should be creative business partners or whatever. Advertising is a word we shouldn't use, so we can be more reflective of what we do today.

Perik: I agree that advertising is the old world and the old word, but lots of brands still shop at agencies that will sell them the emperor's clothes. We really want to be honest and help the client fix it. Often, though, the train is already moving – the brand template is fixed. Often the decisions are made in rooms filled with analytical people, not imagineers. But creative genius needs to be applied at the earliest point. Yet it is common for the best creative directors to be hired to do something very tactical at the bottom of the food chain.

Van Kampen: I recognise that. With our branding, I would like more feedback, more challenge.

Pynenburg: I fully agree that an agency should challenge us. But there is a point when we need a campaign solution or ecosystem solution. If the agency says it doesn't work – hey, guys, help us out. Don't push back!

Ter Schegget: There are lots of clever, creative people on the client side too and no one blood group can own the idea. Together with Heineken, we made an interactive bottle, Ignite, which came from a business problem and we took practices from the IT industry. If you work in partnership with the client,
you get in at the highest level. If you ask what new processes that are working, I would say this new way of adopting how you co-create a product with a client.

Finch: Who owns the idea? The way forward is about co-creation, about collaboration – it's about bursting those bubbles of people living in their own ecosystem.

Brook: Jacco's example is a good one. Tribal DDB is an agency that is not obsessed with ownership of an idea. Success came from jointly briefing a group of people to succeed in a particular outcome without being defined on what the deliverable was. We set some fixed things – budgets, timeline and business objective (how can you make beer the most desirable product in a nightclub?). So it was a really beautiful starting point. Having the right people in the room who were all invested in that – it means the outcome wins.

Ter Schegget: It's about being generous, if you look at the credit list. The crux here is that agencies need to be more curators of popular content. It's much more about building your ecosystem and the client's.

Finch: Brands are not being sold to but are taking ownership more and more. But I wonder how threatening that is to creative agencies?
Haywood: We have simplified the creative brief. A brief that is five pages in my head is actually not brief. We have broken it down, spending time with the client, defining what the problem is. We need to recognise that one of the core human traits is not to buy stuff, it's to live a better life. We have an anti-smoking campaign saying what people have been saying for years, which is that smoking is really bad for you, but also going that little bit further, saying: "And here is how you give up – we will get you through the first month." Saying and doing.

Wassef: To build on that, I don't think it's a new thing that people who work with brands should be asking their colleagues what's keeping them up at night. Two years ago, we started chasing a behaviour before thinking what the problem to be solved is. In a former life, Sainsbury's "try something new today" solved a business problem; Heineken Ignite solved a business problem. If those problems are not on the brief, send it back.

Garvey: Agencies need to be more flexible and clients should be looking for that. We need flexible applications of storytelling, better-applied. Clients are looking for always-on, but why do you want to be always on – why don't you concentrate on doing something very, very well?


Johnsen: You fairly nailed it, Simon. Getting back to basics has been helping us – it's how to help our clients be more intelligent about their consumer. It used to be that agencies helped clients from an anthropological standpoint and I think a lot of that has gone. We are known at Wieden & Kennedy for being a global agency that does communications that travel the world, but we have been doing more local, under-the-skin stuff, such as a two-day immersion in Turkey for Nike.

Hawes: It's so exciting how technological developments have changed the agency-client relationship because we can have that more extensive relationship. Jeremy and Jacco, your Ignite product is a great example of that.

VanderVliet: I want to expand on what Jacco said. Building the eco­system is absolutely key. We changed the paradigm a bit, so we started conversations with what we call "unlikely clients" – people in the organisation with a powerful say in how they spend the different budget.
Heineken is a case in point, where you spend a lot of money on the Champions League and on James Bond. And if you compare that with the media spend, you would be surprised. So follow the money! In the old days, this was called activation and they may say they have agencies for that. Well, my friends, those agencies are shit and we can do a much better job; we can create beautiful stories.
Lastly, digital is now all about scale. The great thing about social is that it is a mass medium, if you get the analytics right. So, whether you like it or not, Miley Cyrus is a channel. We have a dashboard for our clients through a partnership with The Audience in Los Angeles. It comes back to data.
Partnerships: what makes them work?
VanderVliet: One thing for me is: don't be a dick.
Ter Schegget: That is easier for some people than it is for others.

VanderVliet: Those who try to play the game: trust me, the game is going to get you nowhere. The sad reality is there are quite a few people on both the agency and client side who don't get that. Going back to Kerrie's point, there is an ugly monetary side to the ownership of ideas and that is the harsh reality. But when you get a sense of divide and conquer, make a call to the client and ask to come back and do it together with other agencies. I bet no client will say no.


"One thing for me is: don't be a dick"
Pynenburg: We used to have a below-the-line agency, an above-the-line agency and a PR agency; now we put them together in a team. We give them all the same briefing and they have to present first proposals and the ecosystem and then, based on the ideas presented, we select one lead agency to work it out. We force the agencies to work together.

Ter Schegget: The loop process – I helped write it – acknowledges that everyone can come up with a good idea, but not every agency is as adept at rolling it out across a complex platform, or at project management.

Hawes: It's worth setting rules up front, with clarity, and sticking to them. A client recently wanted agencies to collaborate but threw this ugly thing in the middle, which was the budget, and gave no visibility into it. So then you had five agencies and, I hate to say it, willing to do anything to get that budget. It turns into a bit of a turf war. I know a serious Fortune 500 marketer who gave one agency the responsibility for setting the budget for all the other agencies. It's not a fair and reasonable treatment for all parties.


Haywood: If you have the client and planners in the room, all they do is think about the problem. It's about having the right people in the room. We did this with Sony Erickson.

Wassef: To be honest, we are spoiled in this room because we have clients from quite progressive organisations, and I don't believe collaboration is all roses and butterflies. I'm sorry, I don't think it works.
We have walked away from pitches that involved 15 different agencies across three different disciplines. I don't care who you are: agencies want to own their creative ideas, they want to bring them to life and build eco­systems, and they have the systems in their own buildings. Why should we play nicely with our competitors? It makes the work better when companies have to prove themselves and that they have the best ideas.

Ter Schegget: I fundamentally believe that, if I'm on the football pitch, I want to win, but I do obey the rules. There is a fine line between trying to be your best and also realising, in a world where you can't do everything, that sometimes the other guys are a little bit better at something.

Wassef: That I agree with – where there is a service you don't offer or a gap in your competence.

Ter Schegget: But a good idea can come from anywhere. Thirty per cent of Dutch ad agencies are making a loss. Eighty per cent are making an unhealthy margin. We live in a hyper-connected world. We work with six agencies and that is just how it is.

Johnsen: All the views around the table are true. I agree, don't be a dick. Respect is an important word and that includes trust and putting yourself in someone else's shoes. Something Stefan touched on: I do think a marketing manager who decides to have multiple agencies needs to manage who is working on what and how, because ad agencies are inherently territorial in their own best interests.

Garvey: The idea needs to be held with central agencies and the onus lies with integration. I see the best global work when the client itself is integrated in its markets and channels – that allows markets to have a more fragmented agency model so you can get best-in-class in different regions but singing from the same hymn sheet.

Van Kampen: To the word collaboration, I'd like to add connectivity.

Perik: We work on lots of multi-agency brand teams. I try to force a brainstorm and make sure not only suits but creatives are there. You have to use the brainpower of the best people who create the big ideas. Treat it as though you are under one agency roof and a lot can come from it.
The downside of collaboration is that the fees are relatively low. We are all on fixed fees. In successful collaborations – where they don't put the bone in the middle and let everyone fight – we all have our protected income, so it doesn't matter who shouts the idea and we can work without financial focus. But it does give a little less time to work on it back at the agency.
Sometimes we collaborate on global brands and it's not profitable, but I get so much inspiration that I can monetise in new business and for other brands that it compensates in other ways. However, it should grow to more mature fees in the future.


Brook: A lot of people seek this thing called collaboration. But it's a false friend. I would say to agencies: have some confidence to pull out. If you are going to be in those less profitable projects, then know why you are there. Likewise, if you are going to collaborate, the client has to be the referee for this. You can't imagine a world where you just let the agencies run free in the playground and decide between themselves how they will organise.
I put a lot of pressure on my colleagues internally, and likewise on agencies, to have real ownership around what that relationship is. There are three agencies in this room that work on the Champions League and all do fantastic work, but it doesn't mean they spend all day together working on that. We are enforcing the collaboration we want, and not necessarily with everyone playing a traditional role.