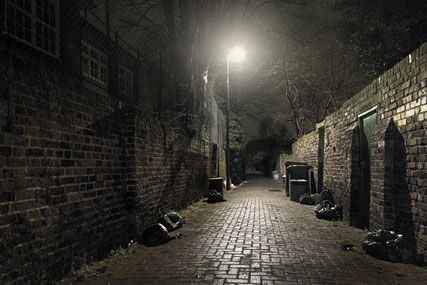 Telfer picked up the "Most Powerful Image" trophy for "Knife Crime", taking the title for the second year running.

Master was a joint multi-image campaign Gold winner with "Brave", a series of pictures highlighting ADHD, along with Jason Hindley, whose "Alcohol Know Your Limits" Home Office campaign for VCCP shared the prize.

A series of ads showing dead people scooped the black & white multi-image campaign Gold for Kander, whose "Life Lost" work for St John Ambulance was entered by Bartle Bogle Hegarty.

Telfer, the most nominated at last year's awards, was the only photographer to win more than one prize this time. He also took home three of the 13 Silvers for work for Prostap prostate cancer treatment ("Great Expectations") and "Rugby Player" for Freelander, produced for Rainey Kelly Campbell Roalfe/Y&R, as well as for "Knife Crime".

Campaign Photo, now in its second year, was set up to recognise the power of the image in advertising. The Awards were presented, along with an exhibition of all finalists' work, on Wednesday night at Jasmine Studios in London's Brook Green.
All shortlisted work is published in a hardback Campaign Photo Awards book, available at www.blurb.com. Gold and Silver winners are detailed below.
Gold Award Winners

Most Powerful Image
Title Knife Crime
Photographer Alex Telfer
Brand Knife Crime
Entered by Alex Telfer Photography ltd
Creative agency Blue River
Creative team Anthony Cantwell
Location Kingsland Church Studios, Newcastle Upon Tyne
Brief The effects that knife crime has on the victims families

Multi-image Campaign (Colour) – joint winner
Title Brave'
Photographer Kiran Master
Brand Shire
Entered by Kiran Master
Creative agency Seiden
Creative team Steve Feinberg
Location New York
Brief To show the face of ADHD (Attention Deficit Hyperactivity Disorder), through portraits that are simple, almost austere, but which radiate an inner dignity. No attempt to manipulate emotions or promise outcomes, only to make a human connection that linksquietly to isolation, tension, exclusion.

Multi-image Campaign (Colour) – joint winner
Title Alcohol Know Your Limits
Photographer Jason Hindley
Brand Home Office
Entered by Jason Hindley
Creative agency VCCP London
Creative team Dave Tokley, Art Director. Matt Gilbert, Copywriter. Richard Yates, Art Director. Anthony Stamp, Copywriter. Mark Orbine, Creative Director.
Location London
Brief The 'Would You' print campaign illustrates a series of situations that people would not do while sober, but would feasibly do when drunk. It aims for people to think twice about the risky situations they get themselves into while under the influences.

Multi-image Campaign (Colour) – highly commended
Title Worried
Photographer Henrik Knudsen
Brand Department of Health
Entered by Henrik Knudsen Photography
Creative agency Miles Calcraft Briginshaw Duffy
Creative team Danny Brooke-Taylor, Creative Director. Ken Hoggins, Art Director. Louise Tummon and Sharon O'Connell, Art Buyers.

Multi-image Campaign (Black and White)
Title Life Lost
Photographer Nadav Kander
Brand St John Ambulance
Entered by BBH
Creative agency BBH
Creative team Adrian Rossi, Creative Director/Art Director, BBH. Alex Grieve, Creative Director/Copywriter, BBH. Victoria Daltry, Art Director, BBH. Will Bingham, Copywriter, BBH.
Location London Studio
Brief The brief was to create natural portraits but with an unsettling quality and when reading the copy you re-appraise the portraits and realise that they are not alive or sleeping but in fact dead

Silver Award Winners – for individual images

Picture library
Title Red Road
Photographer George Logan
Brand Crush
Entered by George Logan Photography
Creative agency Corbis
Creative team Martin Yates, Art Director.
Location Red Roads Flats, Glasgow
Brief A series of otherwordly images with biblical undertones, set against the backdrop of the Red Road flats in Glasgow

Alcoholic Drinks
Title Perfect Surge
Photographer Jeremy Hudson
Brand Guiness
Entered by Carolyn Trayler Agency
Creative agency Jones Knowles Ritchie
Creative team n/s
Location London
Brief Shooting the surge from Guinness on Tap into a glass to create a natural abstract formation of Guinness.

Automotive, Aerospace, Marine
Title Land Rover Goggles
Photographer Andy Green
Brand Land Rover
Entered by Andy Green
Creative agency RKCR/Y&R
Creative team Tim Brook, Art Director. Phil Foster, Copywriter.
Location Italy, Stelvio Pass
Brief To show the 4 wheel drive winter use

Charity, NGO, Not-for-Profit, Public Service
Title We suffer. So children don't have to
Photographer Jonathan Cole
Brand Action Medical
Entered by Jonathan Cole Photography
Creative agency EHS 4D
Creative team Nigel Clifton, Creative Director. Ben Gough, Creative.
Location The Lake District
Brief In contrast to the recent increase of 'fun' charity cycle rides, the brief was to capture the grittiness, loneliness and suffering of the cyclist- to whet the appetite of those riders who are up to the demands of these immense cycle challenges from children's charity Action Medical Research.

Fashion & Beauty
Title Land Girls
Photographer Mark Westerby
Brand Princesshay
Entered by Mark Westerby Ltd
Creative agency Alcazar
Creative team Antonio Bachini, Creative Director
Location Northumberland
Brief The brief was to produce fashion images inspired by the Women's Land Army who worked on the farms and land during the 2nd world war

Financial, Corporate & Utilities
Title LOVE TYPE
Photographer Sean de Sparengo
Brand Andy Dymock
Entered by Coy! Communications
Creative agency Coy! Communications
Creative team Mark Denton, Creative Director. Jerry Gallaher, Art Director. Simon Morris, Copywriter. Andy Dymock, Typographer.
Location London
Brief Andy Dymock is one of adlands most famous typographers. He's well known for the award winning work he's created in support of the Creative Circle. The requirement was to create a sponsorship ad for Andy that would appear in the 2009 Creative Circle annual and promote his skills to the advertising community. THe resulting image was intended to be a heightened dramatisation of his passion for typography.

Government (national & local)
Title Knife Crime
Photographer Alex Telfer
Brand Knife Crime
Entered by Alex Telfer Photography ltd
Creative agency Blue River
Creative team Anthony Cantwell
Location Kingsland Church Studios, Newcastle Upon Tyne
Brief The effects that knife crime has on the victims families

Grocery, Soft Drinks & Household
Title A little bit tasty
Photographer Nigel Harniman
Brand Mars
Entered by Nigel Harniman Photographer
Creative agency AMV BBDO London
Creative team Simon Pedersen, Art Buyer. Richard Dennison and Markham Smith, Creative Directors
Location Brighton
Brief To shoot a typical English summertime location with models- the female model to look glamorous and appealing to the target market, the male models to be slightly awestruck at the icecream girl and her fantasy icecream van. To shoot the backplate & HDRI environment with the models to make them work convincingly with the CGI ice cream van, along with the CGI of the vehicle and creative retouch in house.

Health & Pharmaceutical
Title Great Expectations
Photographer Alex Telfer
Brand Prostap
Entered by Alex Telfer Photography ltd
Creative agency Pan Advertising
Creative team Arron O'Hare
Location Cambois, Blyth, Northumberland
Brief Prostrap, a prostrate cancer treatment drug can extend a mans life expectancy. The shot highlights a man with a new lease of life with great expectations

IT & Technology
Title What's Everyone Tweeting about-Night
Photographer Gary Burchell
Brand Sony Ericsson /Twitter / 3
Entered by Gary Burchell Photography
Creative agency Iris Nation
Creative team Neale Horrigan, Art Director. Leigh Wallace, Copywriter.
Location Barcelona
Brief Commissioned by Iris nation to produce two images for Sony Ericsson and Twitter for their global 'What's everyone tweeting about' campaign. The brief was to produce naturalistic street scenes with the protagonist's replaced with bird's heads. This was a night shot. The street scene and people were lit with flash. The bird's heads were shot in the studio and transposed on the main image.

Media & Entertainment
Title bear
Photographer n/s
Brand snob
Entered by Stuart Hall Photography
Creative agency lean mean fighting machine
Creative team n/s
Location n/s
Brief n/s

Sport
Title Rugby Player
Photographer Alex Telfer
Brand Freelander
Entered by Alex Telfer Photography
Creative agency RKCR/Y&R
Creative team Dan Hubert and Amber Casey
Location Touch Studios, London
Brief To produce an image that promotes VIP days at England's 6 Nations Rugby matches. The aim of the project was to show a portrait of a beaten up, heard edged rugby player. The gritty nature of the image was counteracted with his headband, which is a bowtie.

Travel & Leisure
Title See the tennis stars of yesteryear
Photographer David Stewart
Brand Intercasino
Entered by David Stewart Photography
Creative agency Isobel
Creative team Rob Fletcher, Dave Alexander, Creative Directors. Pete Gosselin, Art Director. Jay Hunt, Copywriter.
Location Cowden, Kent
Brief Produce an exact pastiche of the famous 70's Tennis Girl poster, but 30 years later