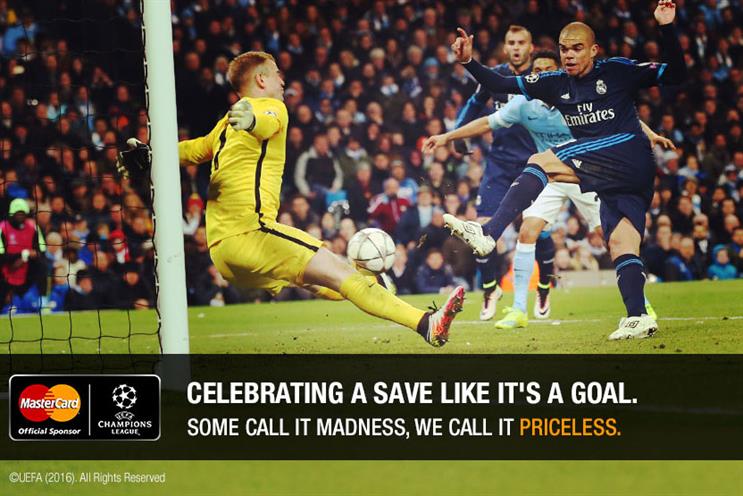 The payments brand, which has been a sponsor of the European football tournament for 22 years, will be unveiling a "priceless surprise" ahead of the final this weekend, featuring Gianluigi Buffon, the captain of Juventus.
As part of the campaign, devised by McCann Worldgroup UK and Europe, MasterCard will also be running a real-time social media campaign during the game. A client and agency team will post content across digital channels throughout the match. Some of this content will be preapproved, like GIFs, and some will be made and signed off on the spot, reacting to the activity on the pitch.
MasterCard has devised a new creative platform for this year's sponsorship – "Some call it madness. We call it priceless" – which began rolling out three months ago.
In the lead up to the final, MasterCard released three videos to engage fans. One of the videos, featuring Buffon, launched this week with a call to action for people to reveal the extent of their fandom. One fan revealed he had a tattoo of the footballer. This week, in response, Buffon got a fake tattoo of the fan.
Another one of these videos, launched last month, was created with Facebook and aims to convey the emotional link between football fans and their clubs.
MasterCard has tracked engagement of digital content that's been released in the lead up to the final and will be using the insights to optimise the real-time campaign on Saturday.
"Other sponsors focus on the sport, but we wanted to focus on the passion of the people," Monica Biagiotti, MasterCard's head of marketing for Europe, told Campaign. "We've been sponsoring it for so long, it's a really great platform for us to connect with people's passions."
MasterCard does not intend to speak only to super fans with its campaign, however. "For some people, it can look silly, watching 20 people run up and down the pitch, and for others it's incredibly important – we want to play on that contradiction," said Biagiotti.
"The idea is to illustrate we know and understand football fans and we know about that passion," said Jon Carney, chief digital officer of McCann Worldgroup UK and Europe.
"The brand is associated as one of the oldest sponsors so it is important to refresh that," he said.