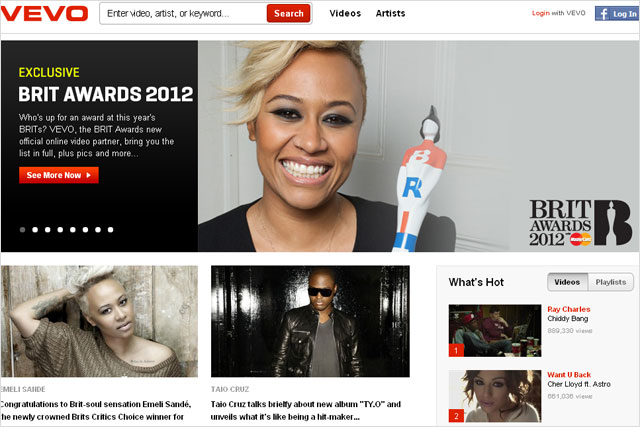 Vevo has signed a deal to become the first ever dedicated online high-definition music video partner for The Brits and will host videos from the nominations last night as well as performances from the event.
In the run-up to the ceremony MasterCard is running pre-roll ads against videos from all the nominees including Professor Green and James Blake (who are up for British male solo artist) and Jessie J and Adele (British female solo artist) on the Vevo site.
Live performances from the awards and exclusive backstage interviews will be uploaded onto Vevo on the night (21 February). The entire show is broadcast as live by ITV.
In the run-up to the awards ceremony on 21 February music fans will be able to watch videos of performances from 2010 and 2011 on The Brits Vevo channel.
The deal with Vevo was negotiated by MasterCard's media agency UM London.
Tom Connaughton, head of programming at Vevo, said: "We are all about championing great music and this is the perfect opportunity for us to bring this amazing UK show to our Vevo audience.
"We're proud to have been chosen by The Brits as their first dedicated online HD music video partner, and working alongside media partners like ITV we want to bring the magic of the awards to the fans, on demand."
Vevo launched in the UK in April and is led by Jonathan Lewis, formerly Northern & Shell digital director and head of digital sales at Channel 5.