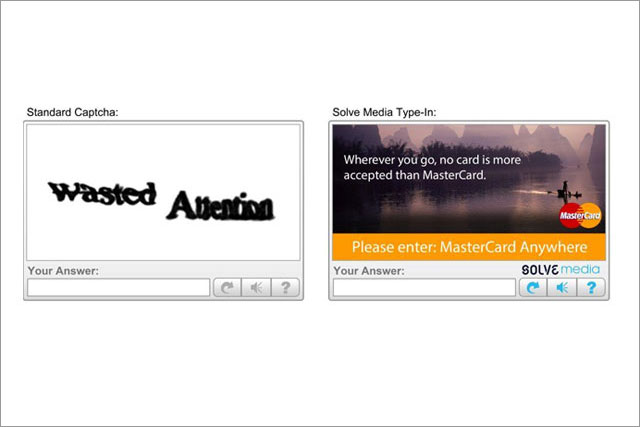 MaterCard is replacing the traditional Captcha with brand messages including "MasterCard Anywhere" on more than 6,000 sites including RyanAir.com, while Unilever is pushing a "lasts just as long" message for its compressed Dove, Sure and Vaseline deodorant cans on websites owned by Bauer Media and AOL.
The brands are only required to pay for messages that have been read and typed correctly, with the Type-In technology provider Solve Media claiming engagement rates often exceed 40%.
Unilever's campaign has resulted in an awareness lift of 151% and a click-through rate of 3.62%, according to Solve Media.
Richard Brooke, senior communications and buying manager at Unilever UK and Ireland, said: "For Unilever, it's important to stay at the forefront of the advertising eco-system, particularly in the digital sphere.
"Type-Ins offer a new and innovative way of presenting our brands to our consumers, giving them a call to action with an engaging message and it has proved very successful."
Some 300 million Captcha response tests occur online each day and take the average consumer 14 seconds to crack, while Type-Ins take seven seconds on average, according to Solve Media.