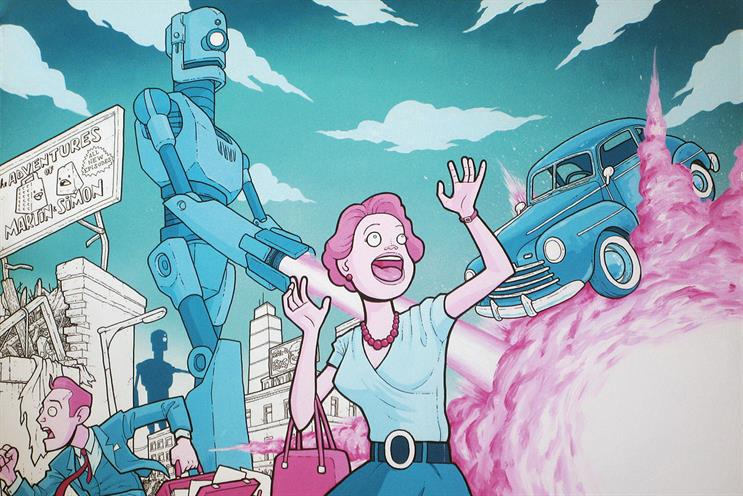 It's tough being an A Lister. Leading from the front, taking advertising into the 16th year of the 21st century with tireless networking. Then along comes the A List questionnaire, asking tricky existential questions on such subjects as the destruction of world culture and the arrival of robots.
Last year's A List gestured towards free will, offering participants access to a time machine to explore the era of their choice. But we're imposing greater control this time around, asking our advertising luminaries to consider the shocking prospect of an imminent robot invasion and a world without the internet.
Things soon darken as the A Listers ponder the consequences. Currents of fear and insecurity bubble to the surface as the great and the good of advertising are whisked away from their Cannes cocktails to an imaginary world where automation represents a whole lot more than downloading an ad-blocker.
But more of that later. The A List, let's not forget, is a volume committed to celebration, backslapping and the recognition of phenomenal achievement. And we're more than happy to get right into the spirit, lobbing a slow, full toss of a question for even the greenest of glitterati to smash out of the ground.
So just what are A Listers proudest of? Well, it's got to be family. Where would they be without those supportive spouses and little smashers to brighten up even the darkest post-pitch weekend? In Shoreditch House or down on the golf course, that's where. Those who don't mention their families take the opportunity to glory in their own great work, agency launches, award wins and epic new-business triumphs.
And this wouldn't be the A List without a roll call of impressive amateur sporting records in cricket, football, hockey, netball, rugby and, inevitably, golf. Given these predictable responses, Richard Brim's proudest moment – "doing a bomb from the diving board at the Colombe d'Or in front of Drew Barrymore" – seems strangely impressive.
While our A Listers claim to have total control and oversight in delivering these achievements, the same doesn't apply to the big disappointments. This is where autonomy and personal responsibility leave the building as elemental forces take matters out of people's hands.
Matt Dyke's "losing a client for reasons entirely outside our agency's control" sums up the mood of bewildered abandonment among the A List tribe. Bil Bungay goes a step further by actually naming names: "Getting stiffed by the new Paddy Power marketing director for no obvious reason within a week of his appointment… literally the worst client behaviour I have experienced in 25 years."
If A Listers can't blame pesky clients for letting them down, they can always focus on their sporting idols and teams. These include Arsenal, Chelsea, Tottenham Hotspur, Leeds United, Southampton, Brentford, QPR, Ebbsfleet United, Manchester United, Sheffield United and Bath Rugby, not to mention England and other teams that failed to win the Rugby World Cup.
Away from the professional sporting arena, Paul Brazier gets more personal by blaming others for his own football team's defeat. "I'm going up front next time!" the towering colossus shouts, while Juliet Haygarth curses the netball gods: "BMB narrowly being beaten in the softball league. We was robbed."
If it's not bloody footballers or rugby blokes letting down the A Listers, then it must be those lousy politicians. The general election result and the Labour Party loom large in the list of disappointments, although few cite Nigel Farage's failure to build a parliamentary power base. Funny, that.
Musicians also fail to live up to expectations. Steve Ackerman wasn't impressed by Kanye West at Glastonbury, Nicholas Coleridge was left cold by Kate Bush at Hammersmith Apollo and pop aficionado Bruce Daisley is still fuming at "the crumbling of Rihanna's musical career".
High personal expectations lie at the root of other disappointments. Moray MacLennan remains despondent at "missing out on the knighthood – I thought the Conservative election victory might have swung it". However, one man who has already been knighted has no truck with regret. Nigel Bogle's "I don't do disappointment" is the very stuff that Sirs are made of. Matthew Dearden is essentially the same confident alpha male, only a bit more reflective. Just imagine Tom Cruise casting a wistful glance into the middle distance before saying to Nicole Kidman in Far And Away: "Disappointment is in the past – I try not to live there."
We'll concede that some things are uncontrollable and subject to wilder natural forces. Tess Alps' cucumbers, for instance, which "were crap". Was it their size, shape or just that they didn't taste right with mint in a salad? Perhaps we'll never know. The outside forces making an impact on Andy Fowler are on a larger scale. "My failed bid to swim the Straits of Hormuz solo. I was scuppered by a typhoon" is apparently genuine and not code for a client scuppering a massive pitch win.
Vicki Maguire sounds surprisingly sanguine when describing the demise of a new business venture: "My plans to open a pop-up Suck and Chew in New York were thwarted when a thousand quid of top-quality sherbet got confiscated at JFK."
Nils Leonard, Maguire's colleague, takes refuge in boundless self-confidence while remaining disappointed at what might have been: "The two projects we made this year that would change the definition of our industry haven't happened yet." Don't worry, Nils, Vicki has already restocked on the sherbet and you're ready to go. That's one down.
Tom Bazeley, fresh from celebrating his proudest moment – "reaching an out-of-court settlement with my wife" – is forced to put the fizz on ice long enough to face up to the biggest let-down of the year: "Discovering Moray MacLennan isn't a total cunt." Is this a civil partnership in the making or simply a marriage of great minds?
Meanwhile, in a darker place, David Bain is one of the few A Listers to embrace personal insecurity. His biggest disappointment? "Always myself, still the dork's dork's dork." Would you like to lie back on the couch, David? Perhaps in the room adjacent to Paul Lawson, scarred by the 2015 moment "when somebody actually did see my willy and started laughing".
Our closing gambit, demanding the A Listers complete the sentence "I'm still here because…", also reveals light and shade among our group of high achievers. Those who take the proposition at professional face value offer admirably prosaic, pragmatic responses relating to enjoying work, paying the mortgage and providing wealth to fuel expensive divorces and second marriages.
Many, it has to be said, display an unmistakable sense that they are close to that "Cocoon moment" when they disembark from the bridge of the good ship advertising to a villa, golf course or vineyard of their choosing.

Sailing into the sunset: some A Listers sense they are close to disembarking
And they'd better have a plan in place because, as Bruce Daisley says: "Let's be honest, we're all going to be fired. It's just a question of when." Not necessarily, Bruce – just follow Gerry Moira's advice and "hide in the toilets".
Yet some of the more positive leaders even claim to be happy at work. A situation best described by Ella D'Amato: "I love what we do and every day I learn something new. I love making things and being around incredibly talented people. We are very lucky."
Others, perhaps sensing a more transcendental angle to our enquiry, are less certain, even baffled. Here's Tim Bleakley, sounding like Richard Dawkins after a night on the Special Brew: "I've thought about this for a long time and still cannot come up with an answer." It'll be all right, Tim, it really will. Unless you find yourself agreeing with Karen Buchanan's dark assertion that she's only still here because "the robots haven't taken over yet".
But surely the ad business remains a great one? A fun park of delight in which our A Listers are the ride operatives dispensing joy to millions? Perhaps. But even then they need stimulants to keep the creative juices flowing.
For many, inspiration comes from alcohol or, in Dan Shute's world, "drinking, fighting and spreadsheets". And if it's not alcohol, it's fear. Fear of facing the brief when you have no ideas. "It's the personal fear that keeps you pushing hard," Chris Baylis says. Jeremy Bullmore agrees, as does Rooney Carruthers, who needs to be "absolutely shit-scared of failure" to get all fired up. Al Young is also motivated by the "blood-curdling fear I will fail myself and those relying on me".
Come on, chaps, just hang around Nick Fox for a while and you'll be OK. "I'm a high-energy player that feeds off the inspiration, ideas and energy of the people around me. If I feel low, I will get up and find someone who is flying and hitch a ride." Go Nick. And, talking of flying, Buchanan claims to get her juices going by behaving like a bat: "I hang upside down from a doorframe every morning and meditate while drinking a kale, beetroot and raw egg-yolk shake."
Sniggering over in naughty schoolboy corner, apparently auditioning for the impending return of the Carry On series, are Richard Alford and Jonathan Burley. Alford pictures "juices oozing down the trouser leg of business" while Burley is stirring himself "with a giant, airport-edition Toblerone and two AA batteries".
There are several Carry On moments in the catalogue of answers to the question: "When was the last time you surprised yourself?" Over to Oli Beale: "I honestly wet myself in a Carluccio's in April. It was awful."
Brave of you to admit to that one, Oli. Others surprise themselves with genuine shows of bravery, bordering on stupidity. Mark Denton's last big surprise was "when I recently sprinted towards a burglar, who threatened to stab me". And this nice line in A List vigilantism is continued by Victoria Fox, who "singlehandedly kicked two druggies out of the kids' playground in my local park".
Excruciating athletic endeavour is high on the list of personal surprises. Zen master Marc Nohr –"Yesterday, I managed a handstand in yoga – I wasn't sure I could" – is joined by Tash Whitmey: "Every time I manage to do a headstand in yoga without a wall." Sounds painful but not as impressive, we'd venture to say, as Kate Waters, who performed "the duck yoga pose outside The Dog and Duck to much amusement and bemusement from passers-by". These days, Robin Wight requires strict supervision to maintain his own performance, surprising himself "this morning, when I managed to do 60 press-ups – as my lovely wife Paola makes me do every day".
When not exerting themselves, our A Listers love to let their hair down. This year, we've injected new life into the hoary old "who would you invite for a good night out?" question by introducing the new concept of "fantasy playmates".
Ignoring the "fantasy" element of the question, many choose to stick with their mates from the business. Aside from the predictable selection of men and women about town, Nicola Mendelsohn, Sheryl Sandberg, Dave Trott, Jeremy Bullmore, Rory Sutherland and Sir Martin Sorrell feature high on the list of companions. It's perhaps the first, and last, time that Sorrell qualifies as a "fantasy playmate".
Yet underneath it all, past the Honey Monster and Tony the Tiger suggestions, lurks the sense that today's A Lister just can't shake off his or her Mad Men obsession. Many nominate Don Draper and Roger Sterling while "the real Mad Men" secure a few nods. Sam Ball goes for George Lois, Brian Cooper for Jerry Della Femina and Gerry Moira would like to invite a whole suite of real Mad Men – Ed McCabe can come along too.
Mark Boyd wants to go back 25 years and "get a table at Langan's. Long list of heroes to invite". Tim Irwin taps into a similar era. "I wouldn't mind an evening out with the girls from the 70s/80s Cadbury's Flake ads," naughty Tim winks. In a similar vein, Angus Macadam nominates Rosie Arnold with the enticingly brief description: "Fit."
At least two A Listers, Ben Bilboul and Nicholas "Nick" Hurrell, exhibit sickening brown-nose tendencies in naming members of the Campaign team as their fantasy playmates. Others are having absolutely none of it. "I'd rather eat my own arse with a rusty soup spoon," Trevor Beattie spits. Well, at least that's the postprandial entertainment sorted.
After dinner and a few drinks, it's time to address advertising's woes. Our bigwigs really get going when revealing the one thing they'd like to change about the industry. A Listers want to see more bravery, creativity and understanding. And diversity looms large on many agendas.
As Karen Blackett puts it: "The UK is a wonderful fruit salad of people. Our agencies should reflect what we see." "Gender balance in creative departments" is what Richard Arscott would like more of, while Lindsey Clay yearns for "better gender balance at the top". Pippa Glucklich points out that only 25 per cent of senior management positions are occupied by women and Helen McRae asks us to consider: "How can we encourage younger women to celebrate and harness their ambition?" Jonathan Trimble is on board with all this but suggests a radical leadership move: "More creative females, though Sorrell stepping down would be the fastest way to accelerate change to the order of play."
The changing nature of Cannes remains a popular subject. "Donate all the money spent on celebrities at Cannes to do something more worthwhile," Tracy De Groose says. But it's clients that really need to change. Bloody clients. If only they didn't exist, the A Listers would be free to do what they want to do.
David Gamble dreams of a future where there is "more regulation around pitching" while there is fighting talk from Bain, who would "disband the IPA for being so comfortably supine beneath the jack boot of procurement".
Paul Bainsfair, however, gets up from the floor to attack clients' "pernicious belief" that driving down fees will get better value from agencies. "They couldn't be more wrong," he growls. Perhaps it's time for a round of golf with Mike Hughes at ISBA. It could get lively, though, as he seems to think it's agencies that need to change: "Let's have a real, open and serious conversation about the agency of the future because the current model ain't gonna cut it, going forward."
Others urge everybody to stop moaning and remember how lucky we are. Mel Exon's "let's cheer up, think big and make stuff" is echoed in Kerry Glazer's "a shot of confidence and a bit of swagger would do no harm".
Confidence should be a vital weapon in the future, especially with a robot invasion on our hands. Most A Listers can see the potential upsides of owning a personal robot – mainly that the machines will be on hand to complete domestic chores. About time too, Rory Sutherland says: "The whole tedious business of getting washed and dressed in the morning has barely changed in 100 years."
Others see things from a different perspective. Daisley has just watched Ex Machina so knows what's coming: "Turns out robots are bad business. I'm not having them anywhere near me." Phil Georgiadis wants to deploy his robot's powers to "erase the digerati", while Jon O'Donnell issues the frankly disturbing threat: "Kill everyone else, robots. Mwahahahaha!!!!"
Dave Trott's approach is more surgical and exhibits a degree of criminal cunning: "My robot would be a hitman, settling old scores while I had the perfect alibi. Having a pint in a pub, miles away, in front of witnesses." Now you know. Never cross Dave.
The future is even harder to face without the internet. We ask our luminaries to say what they'd miss most if it were banned and a frightening world emerges without Google searches for property, holiday destinations or last-minute pitch ideas. There will also be no pornography or dark web.
For some, this is too scary to contemplate. They would rather take refuge in the past – those salad days before advertising came along.
So just what did our A Listers want to be when they grew up?
Aside from the sporting dreams left shattered on the sides of playing fields, the question provided entry to a slightly twisted male fantasyland. A version of Westworld, directed by Banksy, where Yul Brynner's cowboy robot is joined by a "Tornado jet pilot" played by Pedro Avery, four astronauts (Beattie, Trevor Robinson, Spencer Berwin, Steve Goodman), a "Formula 1 racing driver" (Bogle),a "big game hunter" (Tim Lindsay) and a "gladiator" (Ben Fennell).
Placing himself in a camper milieu is Matt Edwards, who cites Charles Frere, the almost forgotten yachting playboy from Howard's Way, as his boyhood inspiration: "I've still no idea what he did but it definitely involved drinking champagne, seducing beautiful women and flying around in a helicopter."
Taking a more robust stance is Kate Stanners. Robot invaders wouldn't stand a chance against an army led by her girlhood idol, Queen Elizabeth I. She wanted to be the redoubtable monarch: "Not for the wooden teeth, white face and red hair. Not for the failed love life or the dresses and the palaces. But for the power she wielded, against all odds – the leader of men, government, armies… Oh yes, that is who I wanted to be when I grew up."
Such power against the odds will prove handy as the world crumbles but at least our art-loving A Listers have assembled some stunning culture to remind them of civilisation's glory days. Laurence Green chooses to preserve "Edward Hopper's Nighthawks. Because it would speak eloquently to man's desolation without the everyday boon of culture."
Paul Weiland is viewing the last surviving "VHS copy of Deep Throat" and, standing over a turntable, is James Murphy, humming one last song before the robot invasion. "My original 12-inch vinyl of Kajagoogoo's Too Shy, the soundtrack of the apocalypse." It's a chilling thought.