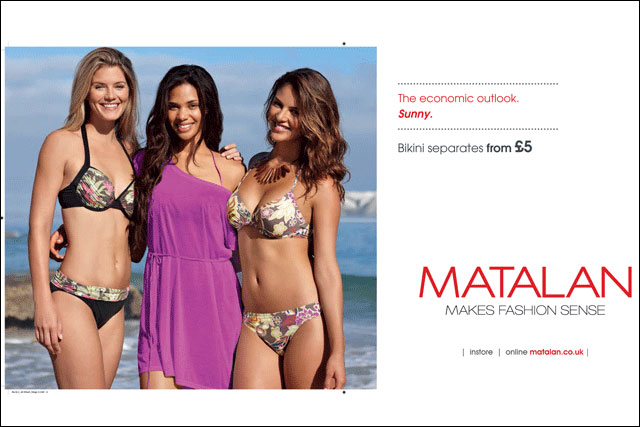 The complaints to the Advertising Standards Authority (ASA) centred on three particular outdoor ads for Matlan's swimwear range, in an in-house created campaign which was planned by Carat.

The first of the outdoor ads showed three women wearing bikinis posing outside a row of beach huts. The text on the ad stated, "The economic outlook. Sunny. Bikini separates from £4."

The second ad show four women in bikinis standing on a beach looking at the distance. The accompanying text stated "A boost for your economy…. Bikini separates £3."

The third ad showed three women standing by the sea with their arms around each other, smiling. The woman in the centre was wearing a coverr up and the two on the other side of her were wearing bikinis. The text stated "The economic outlook. Sunny. Bikini separates from £5."

The ASA was hit by a number of complaints, primarily centred on the fact that it was inappropriate to display the ads where they could be seen by children.

In its defence, the budget retailer said that the outdoor ads formed part of its advertising campaign for its 'Holiday Shop' range, which is made up of summer clothes and beachwear.

Matalan said that the images used in the campaign had been used in a mailer to Matalan Reward Card customers, which was sent out to over 3 million customers, and that they were not aware of any complaints.

Furthermore, Matalan said it was accepted across the market that the best way to market clothing was by showing people wearing the clothing and it was almost inevitable that advertising for bikinis would feature people wearing bikinis.

Matalan made a point of stating that it did not believe the poses were in any way provocative and that the campaign had a sense of responsibility.

In its ruling, the ASA noted the ads did not show any nudity and the images were clearly relevant to the product being advertised. It said the models' facial expressions were not sexually provocative and the text did not contain any innuendo.

The ASA ruled that no further action was necessary.