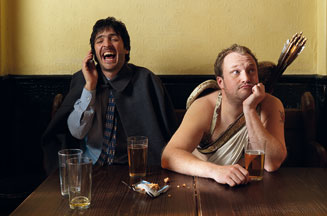 The online dating site's ad account is held by Hanft Raboy and Partners, and its media buying business by Initiative.

Match.com's marketing director, Karl Gregory, who join-ed the company in February, said that the year so far has been positive, with new membership up 35% year on year for the six months to June. 'We are thinking about where we take the brand in 2010 and beyond, and this naturally starts with talking to our contacts across the industry,' he added.

Gregory also said that the brand was aiming for a 'mature' positioning next year, but that no agencies have yet been invited to formally pitch for the business.

This year, Meetic, an online dating company based in France, acquired Match.com's UK and European operations. The deal means that Match.com now shares an owner with its nearest rival, DatingDirect. As a result, DatingDirect is expected to be subsumed into the Match.com brand.
Match.com is one of the first brands to trial pre-roll ads on YouTube around Channel 4 and BBC content. It has also launched an interactive channel on the BT Vision service.
Match.com spent about £6m on advertising in the UK across TV, outdoor and radio last year, according to Nielsen.