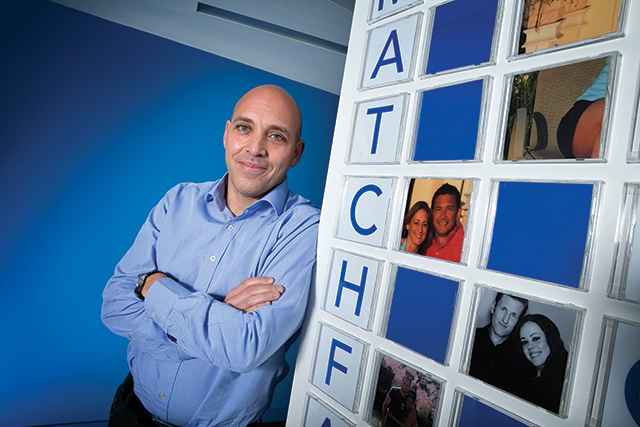 As 17-year-old boy, I could never have imagined that I'd be bouncing around Europe, helping singles find potential dates – a far cry from the import business I set up for cleaning products back then.
But this is a really exciting time and after five years in the industry, I can now say confidently that online dating has become part of our everyday lives.
With more than 10 years experience and as the leading dating service in the category, Match is a trusted brand among singles.
With this in mind I feel a strong responsibility to constantly push the boundaries of our services to empower our members and provide them with even more new and exciting ways to meet people they would like to date.
The dating game
Taking this into consideration, we launched our match socials initiative in April, creating unique events based on the shared interests of our members.
These include a range of activities, from cooking lessons to medieval banqueting and even power boat experiences. This month I was excited to take our events to another level, unveiling the first ever pop-up Aphrodisiac Café with an aphrodisiac tasting menu created and served by a Michelin-starred chef.
It was great to see London's singles engaging with our brand and enjoying meeting potential dates on a lovely sunny summer afternoon.
I really enjoy these experiential activities as they enable our brand to stay fresh and remind singles that they are always at the centre of everything we do. Our next big event is a partnership with East Coast Trains when we will be launching the UK's first ever Love Train.
This is a VIP trip to York on a specially chartered train, and we've already had an overwhelming response with over 600 members hoping to attend.
I've also spent a great deal of time this month number crunching, analysing data about our members, and future gazing the latest trends ahead of our planning and marketing campaigns for 2015.
I'm pleased with the way this is progressing and I hope it will provide people with a refreshing, truthful and unexpected approach to dating – so watch this space.
But it's not just UK business that's been keeping me busy. Late last year I was made a European director at match.com, which means that I now spend a lot of my time thinking about European singles and travelling across a variety of European cities.
In the past few weeks, I've been to Paris and Stockholm reviewing the creative concepts for each market whilst also attending customer focus groups.
Although an exhausting experience, it has been great to find out more about the different ways that people look for love across the continent. It was interesting to learn from a focus group in Sweden, for example, that there is a no-nonsense approach to equality there.
There are also many differences in the way that men and women across Europe like to talk about their dating experiences. Women are instantly keen to share their stories and are extremely emotive in their expression, whereas men take a while to warm up and seemingly take their experiences at face value.
These insights are reflected in the way we communicate with our members and they are invaluable to forming our marketing strategy in the UK & Europe.
Wise words
If there's one piece of advice I would give to someone starting out in business, it would be to never underestimate the positive influence of spending time with your family and loved ones and to make sure you stay healthy.
Despite a hectic work schedule, and in-between my trips abroad, I've been lucky enough to spend some quality time with my family in London. My wife recently gave birth to our second son, so with a few weeks out of the office I was able to make the most of some family trips, Whipsnade Zoo being a surprising highlight. There is something about seeing animals roaming freely which is endearing!
If you are fully present on the job you will be a more effective leader
I also reviewed a book which really struck a chord with me. It reminded me to live in the present moment and to ensure that I don't become a slave to technology in my personal life.
It's called Thrive by Arianna Huffington, and her deeply personal journey provides valuable tips to help improve well-being, and gives advice on establishing a good balance between your work and personal life.
While reading the book, I was inspired to encourage this kind of lifestyle for my team at the match.com office, whilst also trying to live by the same rules for myself.
Having said that, I did flex the rules when I was on holiday, by taking some conference calls and visiting the office on a few occasions. It definitely isn't always easy, but I'm learning to make it work.
I've come to realise that if you are fully present on the job you will be a more effective leader. This month, I've been trying to make more of a personal connection with staff members who I might not normally interact with on a regular basis to find out how everything's going.
I have a really strong team of talented people who live and breathe the brand, many of whom also regularly take part in charitable activity outside work.
This month I sponsored a team member who took part in a 10k run for the British Heart Foundation. It is great see the enthusiasm they have for making other people's lives better including the lives of our single members.
As one of the longest standing players in the online dating category, I would like to think I have become something of an expert on the UK dating landscape.
During this time I have learned so much from our members, but also from my wife and her friends talking about relationships around the kitchen table.
It's these insights and a constant drive to find out more about the lives of daters in the UK that will keep informing our product, business strategy and marketing campaigns.