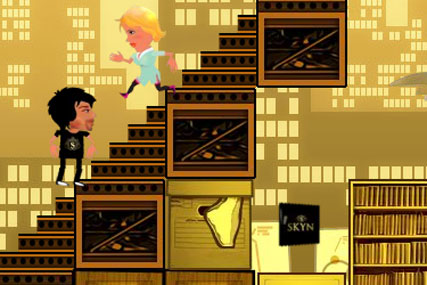 The viral, created by The Lounge Group, aims to change the way consumers think about sex and the way they think about safe sex, while promoting Skyn condoms.
The condoms use a non-latex material called Sensoprene, which is claimed to be clinically proven to enhance sensation.

When Mates launched the Skyn brand, it used a campaign featuring a revolutionary leader delivering his manifesto for better sex with a condom. Mates claims the addition of the Skyn product has helped the company increase its market share by 18% in the past year.

The viral takes players on a tour of the seductive city of Randyville, where the character battles with saucy cleaners with naughty trolleys, maintenance men with hard, shiny helmets, and promotional boys dripping in chocolate body paint.

The story behind the game is that the character has just finished work and has to collect as many condoms as possible on the way to a nightclub to meet their partner for some 'Skyn on skin sex'.

Marta Toth, communications manager at Ansell Consumer Healthcare, said: "'Skyn it to win it' is a fun way to engage with our consumers, giving them the opportunity to experience a unique product with a unique positioning, in a unique way."

Players can win free samples of Skyn condoms by passing through various levels in the game, share scores on Facebook and Twitter, and sign up to become a tester of Skyn products.

The viral will be combined with a digital seeding campaign and PR initiative to drive traffic to the game website, targeting men and women aged 18 to 35.

The game is available to play at Matesskyn.co.uk for people over 18.