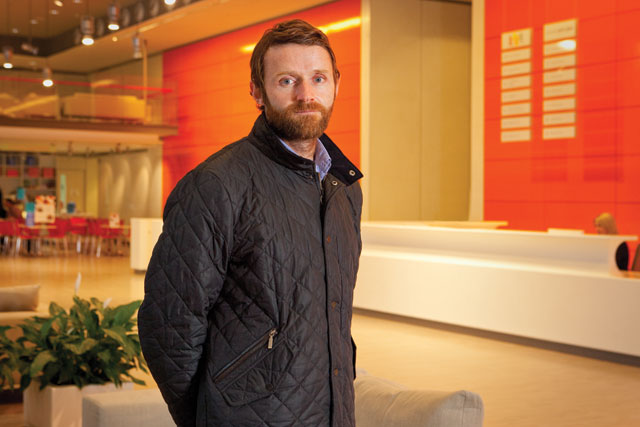 We tend to approve wholeheartedly of people who not only speak their mind but who are also blessed with a colourful turn of phrase. It would be rank hypocrisy of us to suggest otherwise. But still, we can't help wondering if Matt Andrews was quite in his right mind when he said, as he did, in 2008, when he announced he was joining Mother: "If I had stayed in media, my next job would have been a global strategy officer and I'd have ended up committing suicide in an airport toilet."
Sharp intake of breath. And yet, if there were those who were tempted to shake their heads sorrowfully at this (and there were), it probably wasn't in response to the shockingly bleak portrait it painted of this fine industry of ours - which is, after all, run by people who spend a good deal of their time in airport toilets.
No. They shook their heads because it was almost inevitable that, having said this, Andrews would one day, sure as eggs is eggs, rejoin the media agency world and become a global strategy officer.
Indeed, last week, that prospect edged a little closer. In 2008, when he laid down his airport suicide marker, he'd just revealed he was quitting Vizeum, where he was the joint managing director, to become the strategy director at Mother. Last week, he announced he had decided to move on again, this time to become the chief strategy officer at Mindshare.
Perfect. He's done the hard part. Adding the "global" tag to his business card (after all, Mindshare prides itself on being The Global Media Network) is surely a mere administrative detail.
When we catch up with Andrews, the 2008 quote is obviously the first thing we hit him with - and, disappointingly, he claims rather sheepishly that he can't remember ever having said it. Or suspects that we quoted him out of context.
How very dare he - especially as there are those who say it's the best quote they can ever remember in Campaign, and others who argue it neatly illustrates one facet of his character. "Matt is a lovely bloke, with a lovely sense of humour," one source says. "But he's an outlier - he's anti-big, anti-corporate. He's very self-contained. He doesn't work at his best in big groups. I think that's why some of us are surprised - not that he's coming back to media, but that he's going to Mindshare. We'd have expected him to turn up at an outfit such as, say, Goodstuff."
When Andrews left Vizeum, he apparently told friends that he was bored with trying to make everything "land in media". He wanted some processes to end in something more material than a spreadsheet; something that might, as he allegedly put it, hurt your foot.
Thus the move to Mother, where outcomes were, in theory, far less predetermined. There has been speculation, however, that the dream of turning Mother into a comms planning-orientated beast has not fulfilled its initial promise.
Andrews, understandably, takes issue with much of the above. "I was never disgruntled with media," he insists. "There is always so much happening in media - and more than ever these days. I've never lost the desire to be close to that."
And, yes, he understands why some people tend to feel the way they do about Mindshare - but, he adds, they are either out of date or just plain wrong. The evolving nature of its culture is, he would suggest, no more clearly symbolised than in its decision to relocate to new offices in the celebrated Renzo Piano-designed Central Saint Giles building.
It would also be fair to speculate that Andrews' decision to join an agency with such a preponderance of networked, blue-chip, multinational clients has been helped by the fact that his former mentors, Graham Bednash and George Michaelides, seem to have found a happy home there following the demise of their once-groundbreaking media consultancy, Michaelides & Bednash. Andrews left M&B, where he was a managing partner, for Vizeum in 2003.
"Of course I talked to them. They said that what the role offers is an opportunity to do what I do on a larger scale," he reveals.
The consensus is that this is a great signing for Mindshare - and former colleague Grant Millar, Vizeum's managing director, says a lot will depend on whether Andrews is given the right sort of space to flourish. But the bottom line, Millar adds, is that he is an "exceptional planning talent".
He starts in January and will have a UK-only role - so there will be some (but not much) opportunity to work with his former M&B bosses. As global leaders of Mindshare Invention, the pair now spend more time in airports than is perhaps good for them.
But Bednash admits he remains a huge Andrews fan. And he says that, if you want to understand what a big-impact thinker Andrews can be, look no further than some of the work he did for cricket on Channel 4. Such as, for instance, the Australian Summer initiative in 2001 that climaxed with a Fat Boy Slim extravaganza on Brighton Beach attended by more than 100,000 people.
"He understands brands, he understands big ideas and he knows all about the nitty gritty of media planning. That's actually a rare combination," Bednash concludes. "I'd argue that, if you're hoping to straddle ideas and strategy, a media agency is the place to be doing it. It's a very good place to be."
The lowdown
Age: 41
Lives: Brighton
Family: Luisa (wife) and four boys: Archie (seven), Sunny (five), Louis
(three) and Herbie (one)
Last book read: Operation Alphabet by Al MacCuish
Favourite media: Spotify
Currently listening to: The Vaccines
Must-have object: Campervan
Interests outside work: Spending time with family, mountain-biking
Motto: To infinity and beyond