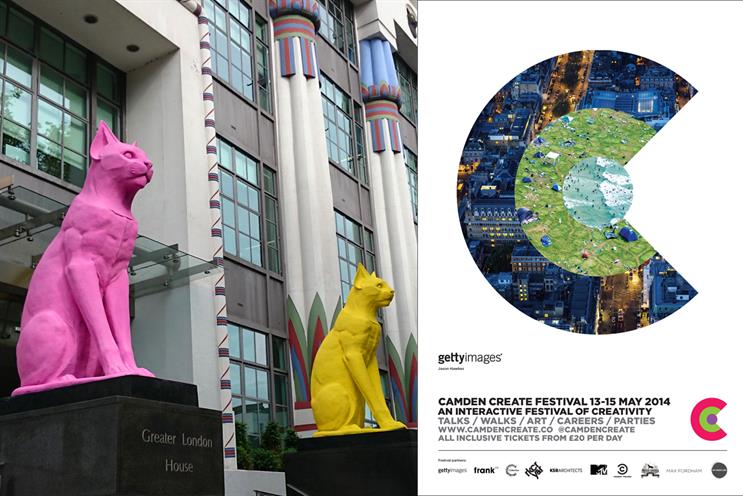 Tell us about the project. Those of us who work and live in Camden are rather proud of her. Behind the market, music, tourists and Special Brew is a hive of creative businesses that make it one of the most exciting parts of London to be in. We wanted to lift the lid on the companies and personalities who will make Camden the next creative quarter in London.

How did you come up with the idea? It started life as a pun: NXNW1. A festival of creativity in Camden. Rather than tell people how creative the area was, prove it. Obviously, there's a small festival in Texas that boasts a similar name, so it became Camden Create.

What reaction did the event get? Camden Town Unlimited was committed to do whatever it would take to bring it to life. We worked together to get the architects, creative agencies, film-makers, designers and a smorgasbord of creative talent in Camden together to not only support the event but contribute to it. From Getty Images to Frank PR to Proud to the Roundhouse and many more, everyone put forward venues, talks, interactive sessions and workshops. It started making for an eclectic and surprising look at what was bubbling under in Camden.
What was your highlight? Seeing the hackable visual identity and logo we created getting bespoke treatments from other collaborators and running as posters across town. Getting the black cats at Greater London House sprayed bright pink and yellow. Bringing the Camden Lock Ness Monster to life. The talks from Ron Arad and Wayne Hemingway were pretty inspiring, and the street-photography session with Getty was great. As was the installation from KSR Architects. And the food tour. All of it.

What was the biggest challenge? Getting planning permission to get the Lock Ness Monster in the Lock, then having to work around a BBC series being filmed there, was interesting. CTU faced the hardest challenge – actually producing and organising a three-day programme.

Tell us an interesting fact about Camden. Creative start-up businesses can get three years' free office space from CTU.

What's your next project? We'll be looking to make Camden Create bigger, better and bolder next year. As well as supporting CTU in promoting Camden as a world-class neighbourhood for creative businesses (welcome, Google!).