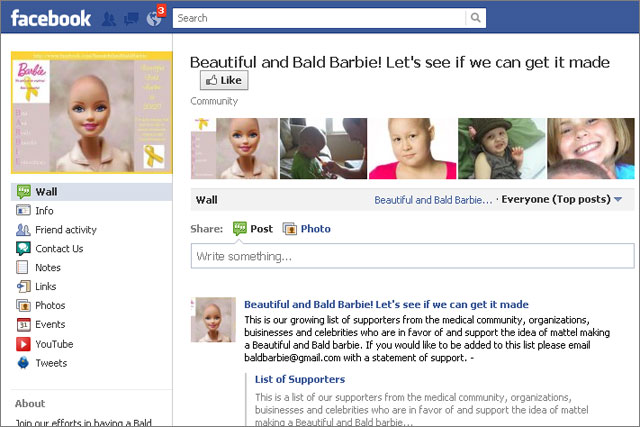 The toy manufacturer has released a statement, which doesn't rule out creating a Bald Barbie, following the phenomenal growth of a social media campaign supporting the campaign.
The people behind the 'Beautiful and Bald Barbie! Let's see if we can get it made' Facebook page originally contacted Mattel with their proposal before Christmas and received the standardized response, which said the company, "does not take unsolicited ideas from outside sources".
However, following a social media campaign that has drawn coverage from major media outlets and attracted 137,000 likes on Facebook, Mattel has taken a more personalized response to the campaign.
A spokesman for Mattel said: "We are honoured that Jane Bingham and Beckie Sypin believe that Barbie could be the face of such an important cause. Mattel appreciates and respects the passion that has been built up for the request for a bald Barbie doll."
However, the toy giant will not confirm or deny if the request to create a Bald Barbie has been successful.
Rebecca Sypin and Jane Bingham started their Facebook page just before Christmas to prove that bald can be beautiful. Both women have daughters who lost their hair after cancer treatment.
Robin Grant, managing director at We are Social, said the campaign has become an issue Mattel cannot afford to ignore.
He said: "The obvious thing to do would be to release a limited edition bald Barbie with a percentage of the proceeds going to charity."
According to Grant, the campaign reflects the growing impact of social media and the speed in which a campaign can enter the public consciousness.
He said: "Some companies have a fear of being seen to bow to consumer pressure – but corporate marketing teams must guard against being unchanging and monolithic."