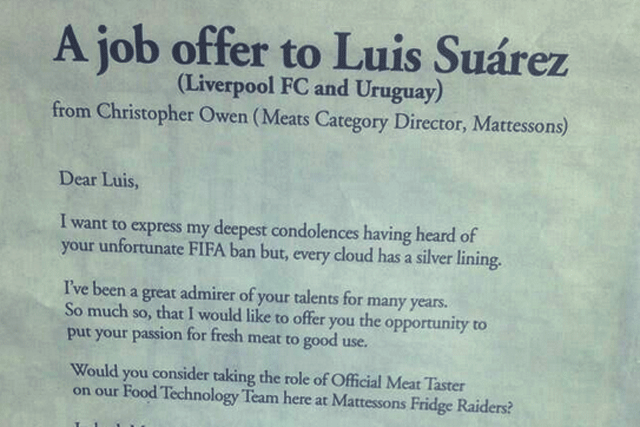 In activity created by Saatchi & Saatchi, the snack brand bought a full-page ad in the Daily Star and published a letter from Christopher Owen, the meats category director, offering Suárez a job.
The humorous letter goes on to say that Mattessons has been inspired by the footballer's appetite to develop a new range of flavours, including "Chelsea Right Back".
In addition to the letter, Mattessons also placed a classified ad in The Metro newspaper this morning that says: "World class biter required." It then goes on to offer Suárez a job specifically, and asks him to respond on Twitter if he is interested.
A host of brands including Snickers, Paddy Power and Specsavers have all posted tactical ads on social media referencing Suárez biting the Italy defender Giorgio Chiellini during a 2014 Fifa World Cup match on 24 June 2014.
Mattessons has already published several posts on Twitter under its Fridge Raiders brand, referencing the incident.
This is the third time that Suárez has been accused of biting an opponent during his professional career.