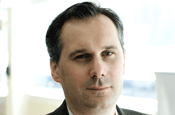 His decision to move follows a rationalisation at the agency that has seen the management team reorganised into a new group structure.

Charlton joined the agency in September 2007 to run the PlayStation business and became the managing director in February 2008.

Matt Shepherd-Smith, the chief executive of TBWA\London, said: "Matthew has made a big contribution to the agency in his year here, and he goes with our thanks.

"Whatever he does next is sure to be interesting and we wish him every success."

Charlton added: "I have met a lot of inspirational people and encountered some fascinating businesses during my time at TBWA and I'm looking forward to putting the things I've learned and experienced into practice in my next venture."