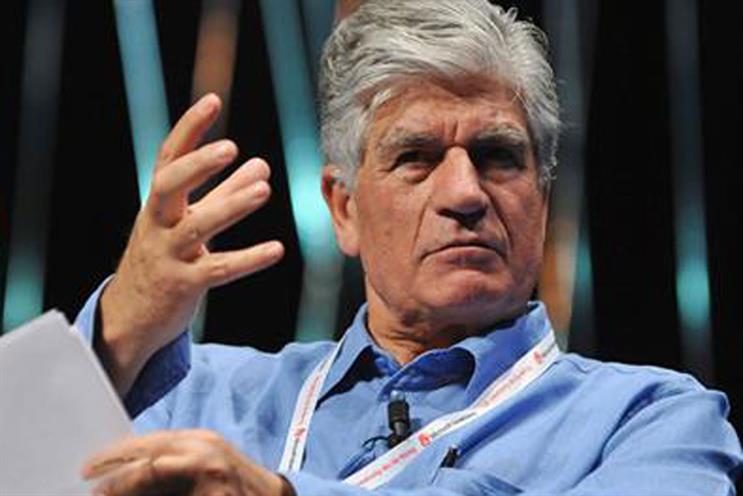 The Publicis results last week revealed organic revenue growth of 1.3 per cent for the first quarter of 2013. There was some disappointment among analysts but what's your view?
"Some analysts have been disappointed as they were expecting higher growth than the one that we posted but, infact, had they carefully listened to what we had said at the meeting for the annual result in 2012 they would have heard that we were expecting a difficult year and that most of the growth would come in the second part of the year, which is what will happen. I have clearly said that we were expecting a difficult Europe as well as some issues with healthcare. Europe is confirming that it is more difficult than expected and healthcare is in line with our own expectations.
What about the investments?
"We have taken some very strong bets. In digital it was really extremely daring and some people were thinking we were really crazy. I'm extremely pleased with every deal we've done."
Do you include LBi in this?
"It's already moving. This is probably one of the best skills of Publicis Groupe. Our integration skills. It's relatively easy to acquire an agency – you negotiate with some people and you sign a cheque. The difficulty starts the day after you sign the cheque. It's extremely important to put in place the right strategy and people. That they're good and embrace Publicis Groupe culture and enjoy it and work with enthusiasm and passion.
What about Digitas LBi in the UK – where does Kitcatt Nohr Digitas stand?
Kitcatt Nohr is an operation we like a lot – I like both partners [Paul Kitcatt and Marc Nohr]. I love the operation and what they're doing. I'm looking at this very personally and very cautiously."
Will we see more acquisitions from Publicis?
"Particularly in the emerging markets. We have no plans to acquire large digital operations in the US or Europe… our focus today is on emerging markets. Both in digital and in analog… We will continue to explore what we can acquire in Russia, in Turkey, in India, in China, in all Latin American markets. And also in some of the South Eastern Asian markets if we can find interesting operations… We have a situation which is extremely good – our balance sheet is very robust, we are generating very good cash flow and we are managing our resources with care."
How likely is a deal between Publicis and IPG?
"You know, I'm never commenting on the competition. I leave that to somebody who has a lot of skills in our industry to do that. I'm not commenting on the competition. I prefer to focus on Publicis business and see how we can increase our revenues."
Can you see the logic in a big deal, though. In further consolidation of the holding groups?
"This is a scenario that, for the time being, is purely hypothetical, so instead of spending time in hypothesis I prefer to look at the reality. And the reality of our world today is that we can strengthen our operation, make ourselves very different from the competition, increase the value for our shareholders, increase the possibilities for our people, create new opportunities for all our people, generate much better service for our clients. My focus has always been the clients and I'm always trying to find the right strategy for Publicis to best service the clients. Today I consider that the best service that I can render to clients is to increase the quality of our service and increase the scope of our service – it's not to only think about shareholders."
How long will you remain in the role? [it is well known that Levy is due to step down as chief executive]
"It's not unfortunately my decision. It's also the decision of the board. The board has started to look at the succession plan and is working on it and I'm confident the board will make the right decision at the right time. Anyway, it's my last dance."
"I have told them [the Publicis board] that I would like to leave and they have said 'OK, we are taking care of the solution, take care of the business for the time being.'"
"I am waiting for their decision. I'm a good soldier. I have been with the company for more than 40 years and they're asking me to stay a little, to give time for them to make the right decision. Anyway, we should not think of a solution that will emerge as one providential man, or woman, what is important is a team and we have great teams, fantastic people and I'm very proud of that."