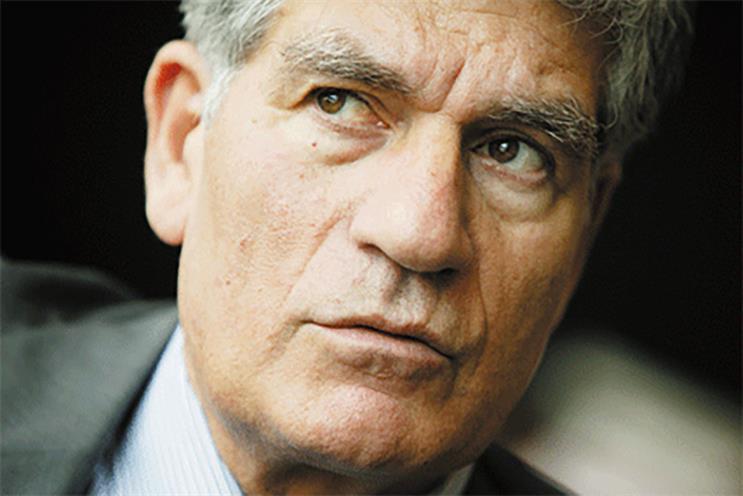 The new leader of Pubicis Groupe will be named before the end of 2016, although Maurice Lévy could remain in a behind-the-scenes role as a non-executive.
Speaking to Campaign in the wake of a major reorganisation within the world's third largest marcoms company, the chief executive said an announcement would be made by the year's end but he would not rule out retaining a link.
He insisted it was "too early to say" whether or not he would remain in a non-executive capacity after his retirement in May 2017.
The reorganisation of the group has focused attention on four senior managers – Arthur Sadoun, Steve King, Laura Desmond and Alan Herrick – who will lead the newly-created "solutions hubs" and are also thought to comprise the leadership shortlist.
Lévy said: "The succession is something that needs to be discussed at board level but we still have a year to figure it out."
"At the moment we're just about to begin just about the most daring reorganisation any group could have done and we've chosen the best people in our organisation to lead it. That has to be our focus, not the succession."
Meanwhile, Lévy predicted Sapient, acquired for $3.7 billion in February this year, would act as a powerful engine for the group's digital growth.
"I'm convinced that Sapient will be recording at least high single-digit and maybe even double-digit growth by the second or third quarters of next year," he said.
Lévy also confirmed his intention that the reorganisation would help boost the group's performance beyond the 19-member G20 group of countries, which currently account for around 90 per cent of its revenue.
"There's a lot of time spent thinking about smaller countries but they don't get the attention they need," he explained. "We may have up to six agencies in some of these countries but they have no critical mass and they are struggling. If we can pull their strengths together we will have bigger impact in such markets."
At the same time, he was adamant that the reconfiguration would was not an excuse for cross-selling and would not allow clients to "cherry-pick" services from across the group which would have sparked concerns about agency networks losing their cultures and identities.
"There will be no cherry-picking by clients," he promised. "It may be that a client's need is a limited one. What's important is that our new client officers are not just seen as suits but that they have clear accountability on service to a client."
"That is both the objective and the challenge. We're not just paying lip-service to our agencies' cultures. All our agencies, from Publicis to Saatchi & Saatchi and from Bartle Bogle Hegarty to Leo Burnett and Marcel have their own cultures and their own contributions to make."
Lévy's hope is for the shake-up to not only result in more business from existing clients but attract new ones. Certainly he will want to do something about a run of disappointing financial results.
They will not be helped by this week's news that Procter & Gamble, the world's biggest advertiser, is moving the bulk of its North American media buying and planning out of the Publicis Groupe-owned StarcomMediavest and into Omnicom.
Lévy acknowledges, "we are lagging behind in terms of growth", blaming the poor figures on the destabilising effect of the failed $35 million merger with Omnicom, the underperformance and management problems at Razorfish and "some issues with clients that have not been the most aggressive and successful. I won't name names but you can work out who they are."
Is saving money the main object of the exercise? Lévy said not but added: "Obviously saving money isn't something we should be ashamed of. At the end of the day clients want more and to pay less for it and we have to comply with that.
"If we have to re-invest, attract new talent and nurture our people then we have to be more productive with less. That means eliminating duplication, using electronic platforms, using more shared services and going the extra mile to lower our costs."
The lean and mean approach by the group takes place against a backdrop of what Lévy sees as seismic changes of client demands, agency systems and consumer behaviour that have taken place over the last half-century.
"We have simplified hugely our organisation and we have a small group of leaders with very clear responsibilities," he said.
"In the 60s and 70s it was all much simpler and clearer. Agencies worked in silos, were full service and the media plan was restricted to the last 10 minutes of the presentation. By the 80s media operations became very strong and, without the silo system, they would never have attained the level of professionalism that they did."
But Lévy contends that the silo system has long outlived its usefulness. As long ago as the 2000s, he said, the group was assembling teams to meet the specific needs of certain large clients.
He contended: "We've not been completely stupid in the way we were operating. But today we are looking at it in a very different way. Now we're able to give clients a strategy, a creative solution, a technology solution and a communications solution.
"Our chief client officers will have the right to make the any demands necessary on our solution hubs in order to deliver what a client needs."
All this, he adds, is just a response to the huge shifts in the way business has evolved and the complexity of the task of interacting with consumers.
"The latest forecasts from ZenithOptimedia for 2018/19 indicates that the internet will take over from TV in terms of market share. What's more, 52 per cent of that will be on mobile," he pointed out. "This is dramatically changing the way in which we target people.
"That means approaching consumers in a respectful way and bringing them messages that are right for them and that help them."
Lévy believes that what is happening can only enhance the value of agencies to clients and he is contemptuous of those whose know only how to build communications platforms but have no idea how to use them properly.
He said: "The challenge is to apply the right level of pressure without having consumes reject your brand. And that's a task for professionals. We can't just think of a consumer as a wallet in which we want a share."
Equally challenging at a time when Publicis Groupe has bet the farm on digital is ensuring that advertising efficiency does not usurp effectiveness. "When we speed up the use of technology it's vital we keep the magic alive," he said
And the change will continue apace as Lévy eases into retirement – if that indeed is what he plans to do.
"We've all under-estimated the change that digital will have on consumers," he argued. "The amount of e-commerce trading, the necessity of changing communication channels and the way clients deal with the multiplicity of those channels will have a huge impact.
"There seems to be a new life-changing tool every 18 months. This, along with multiple touchpoints is leading to a new approach to our business. Much is going to change for us and our clients."
Speed of reaction would be paramount, he insisted. "It won't be like the good old days when you could get by with few creative craftsmen, a few planners and somebody to take care of the media strategy. The speed of interaction has changed so dramatically that you can no longer spend six months testing the packaging and researching the advertising."
Does Lévy see the overhaul of Publicis Groupe in order to confront such change as his grand finale? His legacy perhaps? "It's not something I'm thinking about," he claimed. "There'll be time enough to do that before I'm six feet under."