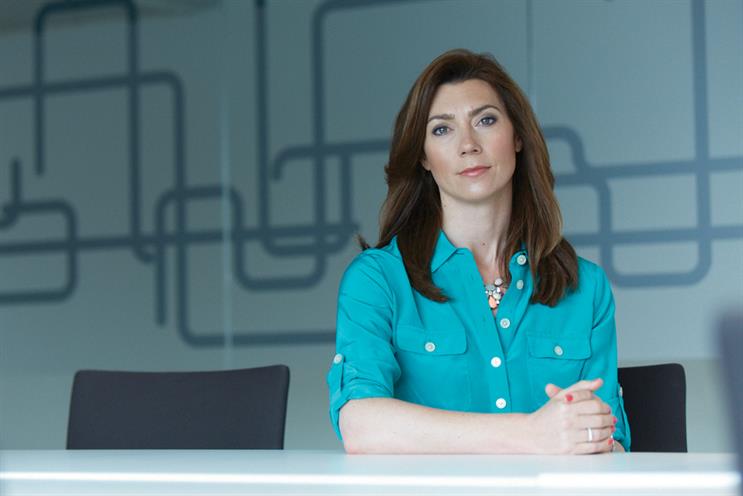 When Dominic Proctor, the global president of Group M, invited Lindsay Pattison, then the UK chief executive and global strategy officer at Maxus, to lunch at Pescatori on Charlotte Street, she was a bit grumpy about it. Not only was it "a bit PHD 25 years ago", it was also inconvenient. But it did give her a hint that something might be afoot.
Her intuition was correct. Proctor wanted to talk to her about the global chief executive role at Maxus. After a little thought, she put a proposal together. Pattison will now be based between London and New York, with some travelling in-between. Six weeks in, she is just back from the US and buzzing about leading the team in a global pitch.
"Maxus is only six years old as a network and it's been the fastest-growing network five years in a row," Pattison says. "My challenge is to take Maxus from adolescence to maturity and answer the question of how do we continue to grow once the natural momentum from being small dies down."
Maxus arrived in the UK in January 2009 when WPP rebranded BJK&E, which it bought in 2001. Kelly Clark, the global chief executive at Maxus at the time, hired Pattison, then an impressive managing partner of PHD.
Under Pattison's stewardship, Maxus' client roster grew quickly and staff have swelled from 35 to more than 200. With the first couple of big wins, BT and Barclays, there were mutterings that success was down to Sir Martin Sorrell's tee-side chats or Group M's muscle. Yet with Associated British Foods in 2012 and L'Oréal in 2013, Maxus showed it was more than capable of winning the big accounts on its own.
David Wheldon, the managing director for brand, reputation, citizenship and marketing at Barclays, credits the 41-year-old Pattison for reinventing the agency.
"Lindsay is one of the most inspiring leaders I've seen at work," Wheldon says. "She is very client-focused. She makes a great effort to make her time work for us all over the world. She's also a great collaborator with other agencies, which is a rare beast."
Barclays is one of Maxus' major global clients, and L'Oréal works with the network around the world. Yet about 80 per cent of Maxus' business remains local. Pattison speaks warmly about working with regional leaders to define how to "allow Maxus to remain beautifully local and feel culturally right". She would be the first to admit it remains a work in progress.
"The question always asked by intermediaries is: 'What makes you different to other Group M agencies?'" Pattison continues. "As the smallest and the challenger brand in the group, we do have an opportunity to be much more daring. To take risks. To be more of a Wieden & Kennedy or a Bartle Bogle Hegarty or a Mother. And either be completely right for a client or completely wrong."
Pattison is the youngest of four children. She uses the analogy of Maxus trying to be the favourite, younger WPP sibling: "Trying to get away with more. Being a bit cheeky and trying to get disproportionate help."
She has a lot of people she can turn to, including Proctor, who is a fan. "Lindsay has fantastic credentials for this important role," he says. "Maxus is still on a high-growth path and Lindsay has the drive, energy and vision to stay focused on that path."
Although Pattison thinks her experience as the global chief strategy officer during the past two years will help, she is aware the role remains a step up. She is also the president of Wacl this year and is heading to the Davos World Economic Forum for the first time as one of WPP's delegation of five in January.
Maxus is only six years old as a network. My challenge is to take it from adolescence to maturity
She speaks matter-of-factly about ignoring the nerves and pushing herself. "It's not even leaning in," she says, referring to the phrase coined by Sheryl Sandberg. "Just jump in. It's all right, I can swim well."
Pattison, a former swimming champion, has certainly demonstrated an ability to navigate waves. There is a lot of warmth for her, even from those who talk about her single-minded ambition and propensity to make decisions first and think about how they will affect people afterwards.
That said, she is convincing when talking of collaboration and working with the team to carve out why Maxus is here. There is lots to do. Not least whether to set up another home in New York.
As the wife of David Pattison, the "P" in PHD and former global chief executive of that network, she has a partner who understands the nature of a global role and the flexibility to maybe join her.
Moreover, the Group M support she has made the very best of over the past five years will be there in her new job. Expect her to take full advantage of it. But keep an eye on out-of-the-way restaurants.