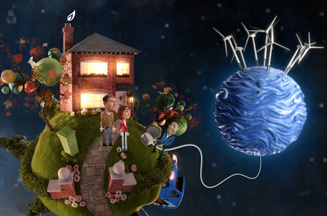 The Alliance is creating an advertising code of practice with the aim of demystifying environmental issues for consumers. The code's guide-lines may include the introduction of cross-brand straplines, a climate-change traffic-light system and simpler language for addressing green topics.
The opening event was chaired by former B&Q mark-eting director Jo Kenrick, and attended by 65 marketers from brands such as BT, BSkyB, Royal Mail and Eurostar.
Attendees were divided into groups of 10, each tasked with developing simpler ways to talk to consumers about green issues. A vote was then held at the conclusion of the meeting to establish which proposals had the strongest backing.
The most popular proposal was a plan to introduce an umbrella strapline, 'Another way', on products that help consumers save energy and water.
One of the main priorities for the May Day Alliance is to discourage the use of jargon in advertising, and any terms that relate to complex scientific calculations. For example, attendees suggested a ban on using the terms 'sustainability' and 'green' in advertising copy, and replacing them with more commonplace words such as 'enduring' and 'lasting'.
'There is a lot of jargon that the man on the street does not understand,' said Lisa Ohlin, one of the attendees and a former global head of insight at Cadbury.
Chris Satterthwaite, chief executive at marketing communications group Chime, and, with Kenrick, joint head of the May Day Alliance, agreed that marketers have a responsibility to help consumers make informed decisions.
Another discussion centred on rewarding those consumers who buy environ-mentally friendly products. Marketers would be encouraged to use 'the five R's' - re-use, reduce, recycle, respect and reward - in their campaigns.
Kenrick cited the importance of marketers commit-ting to using the same terms. 'We can only decide these are the best terms if others agree it is the best language,' she said.
Marketers are also keen on introducing a red, amber and green traffic-light system, as used by food manufacturers, although it is yet to decide which sectors such a scheme would apply to.
Among the less popular proposals was one for the launch of a consumer website to pro-vide guidance, and another for a stamp to be displayed on products deemed 'better for the planet'.
Members of The Marketing Society are also being invited to vote via the body's website for the proposals they believe are most workable. The organisation will seek feedback through its 'Connect' forum, and further meetings are plan-ned for later in the year.
Brands wishing to get involved should register at bitc.org.uk or email mayday@marketing-society.org.uk.
Your views on marketingmagazine.co.uk
'Good advertising, we are told, sells more products and therefore creates more pollution. Would it be right to think that the environmentally friendly thing to do would be to produce really bad advertising that doesn't work?' FP
'While everyone is focused on how to communicate environmental responsibility, is anyone actually looking at the impact advertising itself has on the environment?' Darren Woolley
'[Kenrick] is right that the issue is bigger than just carbon footprint and throwing words like "sustainability" about.' Chris Arnold