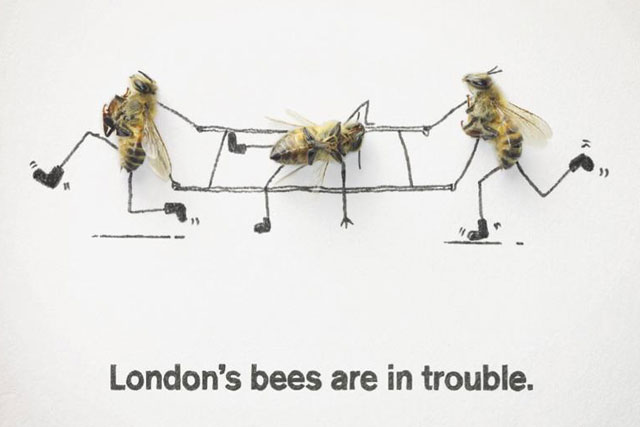 The initiative will run across outdoor, on the London Underground and online from Friday.
Created by Lida on a pro-bono basis, the ads have been taken from cult artist's Magnus Muhr artwork. They include a bee being carried on a stretcher by two other bees and a bee using an oxygen mask.
The creative director on the ads was Nicky Bullard, who worked alongside copywriter John Fazio and art director Chris Whitehead.
The campaign will encourage Londoners to visit the Capital Growth website to find out why bees are essential to London living. They are also encouraged to make a "bee" pledge, such as growing bee-friendly food including fruit trees, tomatoes and soft fruits.
In addition, the Mayor is giving people the chance to create 50 community hives. Groups will attend training sessions before being given hives, equipment and a spring bee colony next year.
Boris Johnson, Mayor of London, said: "My 'bee-friendly' pledge as Mayor is to zealously safeguard our city's green spaces. Through Capital Growth, we aim to create 2012 community food growing spaces in London by 2012 which will provide nectar-rich plants for bees."
Nicky Bullard, creative director at Lida, said: "With more people living in London and cities alike, it's imperative that we take the time to learn more about this decline and find out ways to help the bees whether it is planting bee friendly plants of starting your own bee hive."