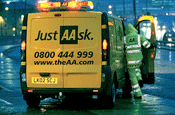 The move puts an end to both Delaney Lund Knox Warren & Partners and Rapier's relationship with the car insurance brand.
The agency secured the business following a three-way shoot out against the incumbents, Rapier, which created work for AA's personal loans and DLKW, which handled roadside assistance. Michael Cutbill, the AA's marketing director, handled the pitch.
MBA will now take on responsibility for all creative communications for the AA.
The review, which kicked off in January, followed last year's takeover of the AA by Saga, and the merger of the companies' marketing function and financial services products division.
MBA's appointment marks a shift in strategy for the insurer, which plans to place greater emphasis on direct response.
The AA declined to comment on the appointment.