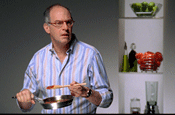 The ad opens on with a woman cooking, describing the flavours in the droning Canadian tone for which Grossman is well-known.
The action then cuts to more amateur chefs imitating Grossman while describing the cooking sauces.
In the final shot Grossman begins to wax lyrical about the product only to be curtailed by the director shouting "cut."
The strap line reads: "Sauces with a distinctive voice".
Credits:Project name:
Voices
Client:
Sue Knight, Director of Culinary Brands, Loyd Grossman
Brief:
Communicate the distinctive taste of Loyd Grossman sauces and put Loyd back at the heart of the advertising.
Creative agency:
Miles Calcraft Brigenshaw Duffey
Copywriter:
Malcolm Duffy
Art director:
Paul Briginshaw
Planner:
Andy Nairn, Sharon Powell
Media agency:
Mediavest
Media planner:
Richard Smith
Production company:
Home Corp
Director:
Lucy Blakstad
Post-production:
Glassworks
Editor:
Jono Griffith @ Final Cut
Audio post-production:
Wave
Exposure:
on TV from 21st April, on radio from 5 May