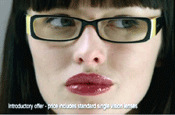 The ad sees Butcher in a stark white studio, seated in a designer chair, outlining what makes a good optician.
After listing a number of her ideal criteria, the ad ends with the strapline "Vision Express: what would you like to see?"
Amy Holdsworth, board account director at MCBD, said: "Lisa Butcher's strong fashion credentials and younger appeal make her a fantastic spokesperson."
The ad promotes an offer of £99 frames and lenses by the German brand BeYu.