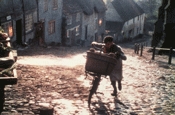 The company is planning to spend £15 million on relaunching the Hovis brand. This will include bringing back the small unsliced Hovis loaf, which was dropped 30 years ago, to tap into the appetite for nostalgia brands.

Premier Foods appointed MCBD and McCann Erickson to its £26 million advertising roster after it bought RHM in 2007.

After a five-month review, Premier Foods divided its brands between the two agencies in January.

This saw MCBD take Loyd Grossman, Ambrosia and Batchelors. McCann Erickson, the incumbent on Sharwoods, Bisto, Mr Kipling and Cadbury Cakes, added Quorn and Hovis to its clients.