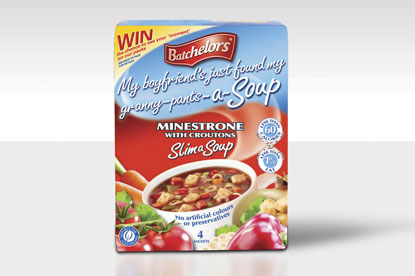 The agency, which works on Premier Foods brands including Hovis and Oxo as well as on ad projects for Cup-a-Soup, has renamed the 42 instant soup products to fit with the demographic that each is targeting.
New names developed by MCBD for the range include one for the brand's 99 per cent fat-free minestrone soup, which is aimed at calorie-conscious young women. The soup will now be called: "My boyfriend's just found my granny-pants-a-Soup."
Cup-a-Soup's chicken and mushroom variety will now be called "His new girlfriend is fatter than me-a-Soup" and others include "Still no signs of bingo wings-a-Soup" and "I thought he winked at me but it was a twitch-a-Soup".
The activity is the first time that Batchelors has renamed its Cup-a-Soup range, and the rebranding will be introduced in supermarkets towards the end of this month.
To help promote the rebranding exercise, the agency is also launching a new campaign called "moments", which will give consumers the chance to name a Cup-a-Soup variety of their own.
Users can submit their ideas for new names and packet designs on a website - www.cupasoupmoments.co.uk - with the best suggestions appearing on packets in March 2010.