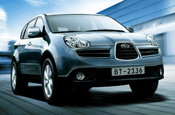 The agency will develop a campaign to promote the launch of the diesel variant of Subaru's new Forester sports utility vehicle.

The campaign will run across TV, print and point of sale, and will be used in 15 markets across Europe.

MCBD won the £7 million UK Subaru account in 2005 after a pitch against Mother, Walsh Trott Chick Smith and the 14-year incumbent, Palmer Hargreaves Wallis Tomlinson.

It regularly competes with fellow Subaru roster agencies for pan-European briefs and, earlier this year, created a campaign for the car marque's Boxer Diesel engine.

The 30-second TV spot featured a montage of landscapes that included muddy tyre trails and tyre tracks through snow.

On top of each, a voice-over repeated the phrase: "Subaru has been here." It ended with a shot of a diesel pump in a petrol station and a voiceover saying: "Subaru has never been here... until now."