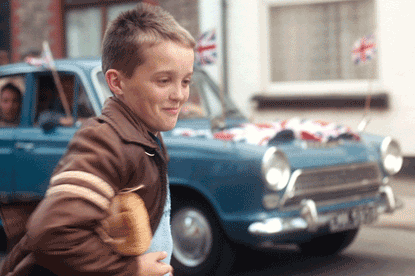 The ad also scooped three golds in the Bread & Cereals category, Best 60-90 Second TV Commercial and Best Over 90-Second TV Commercial categories.
VCCP and CHI & Partners also won two gold awards apiece for their Home Office binge-drinking awareness "binge female" and Britvic Drench Water "brains" spots respectively.
Meanwhile, Rattling Stick scooped the Panalux Award for Most Successful Production Company of the Year for the second year running.
The Chairman's Award for An Outstanding Contribution to the Commercials Industry went to Traktor.
See below for the full list of winners.
GOLD AWARDS

THE THINKBOX AWARD FOR BEST TELEVISION COMMERCIAL OF THE YEAR
Breads & Cereals
Hovis "go on lad" made for Miles Calcraft Briginshaw Duffy by Rattling Stick
Creative team: Gavin Torrance and Danny Hunt
Director: Ringan Ledwidge

Soft Drinks
Britvic Drench Water 'Brains' made for CHI & Partners by Rattling Stick
Creative: Ewan Paterson
Director: Ringan Ledwidge

Beverages
PG Tips 'Breakfast' made for Mother by Hammer & Tongs
Creative team: Stuart Outhwaite, Al McCuish, Darren Bailes and Ben Middleton
Director: Garth Jennings

Beverages (Viral)
PG Tips 'Queen' made for AKQA by Red Bee Media
Creative team: Leo Thom and Ben Oliver
Director: Chris Balmond

Household Soaps & Detergents (Viral)
Comfort 'Naturists' made for Ogilvy Advertising by Thomas Thomas Films
Creative team: Sue Higgs and Tony Haigh
Director: Jim Gilchrist

Public Service Advertising
Home Office Anti Binge Drinking Awareness 'Binge Female' made for VCCP by Gorgeous
Creative team: Matt Gilbert and Dave Tokley
Director: Vince Squibb

Best 30-59 Second TV Commercial
Home Office Anti Binge Drinking Awareness 'Binge Female' made for VCCP by Gorgeous
Creative team: Matt Gilbert and Dave Tokley
Director: Vince Squibb

Best 60-90 Second TV Commercial
Britvic Drench Water 'Brains' made for CHI & Partners by Rattling Stick
Creative: Ewan Paterson
Director: Ringan Ledwidge

Best Over 90 Second TV Commercial
Hovis 'Go On Lad' made for Miles Calcraft Briginshaw Duffy by Rattling Stick
Creative team: Gavin Torrance and Danny Hunt
Director: Ringan Ledwidge

SILVER AWARDS

Miscellaneous Consumer Products
Philips Satinelle Ice Epilator 'Karis' made for DDB London by Sonny
Creative Team: Neil Dawson, Tim Charlesworth, Grant Parker and Michael Kaplan
Director: Fredrik Bond

Vehicles
Volkswagen Golf 'Enjoy The Everyday' made for DDB London by Outsider
Creative Team: Graeme Hall and Noah Regan
Director: Scott Lyon

Transport & Travel
Transport For London 'Awareness Test' made for WCRS by Gorgeous
Creative Team: Tom Spicer, Simon Aldridge, Kit Dayaram and Vince Chasteuneuf
Director: Chris Palmer

Transport & Travel (Viral)
Transport For London 'Awareness Test' made for WCRS by Gorgeous
Creative Team: Tom Spicer, Simon Aldridge, Kit Dayaram and Vince Chasteuneuf
Director: Chris Palmer

Public Service Advertising
Home Office Anti Binge Drinking Awareness 'Binge Male' made for VCCP by Gorgeous
Creative Team: Matt Gilbert and Dave Tokley
Director: Vince Squibb

Clothing
Nike 'Turning Spanish' made for 72&Sunny by Outsider
Creative Team: Jon Matthews and Bryan Rowles
Director: James Rouse

Clothing (Viral)
Diesel 'Diesel SFW XXX' made for and by The Viral Factory
Creative Team: The Viral Factory
Director: Keith Schofield

Computer Software
BBC iPlayer 'Penguins' made for RKCR/Y&R by Red Bee Media and Gorgeous
Creative Team: Paul Silburn
Director: Vince Squibb

Charity
Barnardo's 'Break The Cycle' made for BBH by Sonny
Creative Team: Dominic Goldman, Nick Allsop and Simon Veksner
Director: Jeff Labbé

TV & Radio Station Promotions
BBC3 'Fearless' made for Fallon by Red Bee Media
Creative Team: Joe De Souza and Sam Walker
Director: Steve Bendelack at Spank Films

Best 30-59 Second TV Commercial
Home Office Anti Binge Drinking Awareness 'Binge Male' made for VCCP by Gorgeous
Creative Team: Matt Glbert and Dave Tokley
Director: Vince Squibb

Nike 'Turning Spanish' made for 72&Sunny by Outsider
Creative Team: Jon Matthews and Bryan Rowles
Director: James Rouse

Volkswagen Golf 'Enjoy The Everyday' made for DDB London by Outsider
Creative Team: Graeme Hall and Noah Regan
Director: Scott Lyon

Best 60-90 Second TV Commercial
Nike 'Turning Spanish' made for 72&Sunny by Outsider
Creative Team: Jon Matthews and Bryan Rowles
Director: James Rouse

Cinema
Orange Goldspot 'Snoop Dogg' made for Mother by Hungry Man
Creative Team: David Kolbusz, Rob Doubal and Augusto Salo
Director: Bryan Buckley

Orange Goldspot 'Rob Lowe' made for Mother by Hungry Man
Creative Team: David Kolbusz, Rob Doubal and Augusto Salo
Director: Bryan Buckley

Orange Goldspot 'Anjelica Huston' made for Mother by Hungry Man
Creative Team: David Kolbusz, Rob Doubal and Augusto Salo
Director: Bryan Buckley

Cinema Adaptations of TV Commercials
Hovis 'Go On Lad' made for Miles Calcraft Briginshaw Duffy by Rattling Stick
Creative Team: Gavin Torrance and Danny Hunt
Director: Ringan Ledwidge

Sponsorship Bumpers
Volkswagen Passat 'Poodles', 'Snail', 'Gymnast', 'Baby' made for DDB London by Stink
Creative Team: Ben Tollet and Emer Stamp
Director: Neil Harris

BRONZE AWARDS

Vehicles
Audi Quattro 'Grip' made for BBH by Outsider.
Creative Team: Adi Birkinshaw and Paul Yull
Directors: Dom & Nic

Corporate
Virgin Atlantic 'Love at First Flight' made for RKCR/Y&R by Partizan
Creative Team: Pip Bishop and Chris Hodgkiss
Director: TRAKTOR

Transport & Travel
Virgin Atlantic 'Love at First Flight' made for RKCR/Y&R by Partizan
Creative Team: Pip Bishop and Chris Hodgkiss
Director: TRAKTOR

Public Service Advertising
Transport for London 'Awareness Test' made for WCRS by Gorgeous.
Creative Team: Tom Spicer, Simon Aldridge, Kit Dayaram, and Vince Chasteuneuf
Director: Chris Palmer

COI FRANK 'Pablo' made for Mother by Hotspur & Argyle
Creative Team: Scott Harris, Ed Warren, and Damien Eley
Director: Big Red Button

International
Orange 'Rewind City' made for Publicis Conseil by Rattling Stick/Wanda
Creative Team: Olivier Camensuli and Frederic Royer
Director: Ringan Ledwidge

Discovery Channel 'Boom DeYaDa' made for 72&Sunny by Outsider
Creative Team: Jason Norcross and Bryan Rowles
Director: James Rouse

Charity
Foundation For The Study Of Infant Death 'Pain' made for JWT London by Hungry Man
Creative Team: Laurence Quinn and Mark Norcutt
Director: Steve Hudson

BBC iPlayer 'Penguins' made for RKCR/Y&R by Red Bee Media / Gorgeous / Passion Pictures
Creative Team: Paul Silburn
Director: Vince Squibb

Television and Radio Station Promotions
BBC4 'Purple Haze' made for RKCR/Y&R by Red Bee Media and Strange Beast
Creative Team: Nick Simons and Jules Chalkley
Director: James Price

Radio 2 'A Bit of A Mix Up' made for RKCR/Y&R by Red Bee Media and Outsider
Creative Team: Ted Heath and Paul Angus
Director: James Rouse

BBC 'White' made for RKCR/Y&R by Red Bee Media
Creative Team: Mike Boles and Jerry Hollens
Director: Malcolm Venville at Therapy Films

BBC iPlayer 'Penguins' made for RKCR/Y&R by Red Bee Media / Gorgeous / Passion Pictures
Creative Team: Paul Silburn
Director: Vince Squibb

Best 20-29 Second Commercial
Wall's 'Baby' made for Beattie McGuinness Bungay by Rattling Stick
Creative Team: Ian Heartfield and Matt Doman
Director: Danny Kleinman

The John Webster Award for Best 30 second Commercial
Volkswagen Polo 'Dog' made for DDB London by Independent
Creative Team: Dylan Harrison and Fergal Ballance
Director: Noam Murro

Best 30-59 Second Commercial
Audi Quattro 'Grip' made for BBH by Outsider
Creative Team: Adi Birkinshaw and Paul Yull
Directors: Dom & Nic

Virgin Atlantic 'Love at First Flight' made for RKCR/Y&R by Partizan
Creative Team: Pip Bishop and Chris Hodgkiss
Director: TRAKTOR

Best 60-90 Second Commercial
Shelter 'House of Cards' made for Leo Burnett by Outsider
Creative Team: Dan Fisher, Peter Gossell, Rick Brim, and Jay Hunt
Directors: Dom & Nic

Transport for London 'Awareness Test' made for WCRS by Gorgeous
Creative Team: Tom Spicer, Simon Aldridge, Kit Dayaram, and Vince Chasteuneuf
Director: Chris Palmer

Barnado's 'Break The Cycle' made for BBH by Sonny
Creative Team: Dominic Goldman, Nick Allsop, and Simon Veksner,
Director: Jeff Labbé

Phillips Satinelle Ice Epilator 'Karis' made for DDB London by Sonny
Creative Team: Tim Charlesworth and Michael Kaplan
Director: Fredrik Bond

C4 'Handguns' made for 4 Creative by Channel 4
Director: Brett Foraker

Virgin Atlantic 'Love at First Flight' Made for RKCR/Y&R by Partizan
Creative Team: Pip Bishop and Chris Hodgkiss
Director: TRAKTOR

Best Over 90 second Commercial
Honda 'Live' made for 4 Creative by North One
Creative Team: Tom Tagholm and Craig Hanratty
Director: Tim van Someren

Best Over 90 second Commercial (continued)
BBC iPlayer 'Penguins' made for RKCR/Y&R by Red Bee Media / Gorgeous / Passion Pictures
Creative Team: Paul Silburn
Director: Vince Squibb

Commercials shown in cinemas as well as on television
Volkswagen Golf 'Enjoy the Everyday' made for DDB London by Outsider
Creative Team: Graeme Hall and Noah Regan
Director: Scott Lyon

BBC3 'Fearless' made for Fallon by Red Bee Media
Creative Team: Joe DeSouza and Sam Walker
Director: Steve Bendelack at Spank Films

Cinema Series of commercials
Orange Goldspot 'Snoop Dog', 'Rob Lowe', 'Angelica Huston', 'Dennis Hopper' made for Mother by Hungry Man
Creative Team: David Kolbusz, Rob Doubal, and Augusto Sola
Director: Bryan Buckley