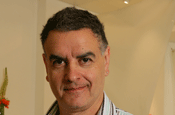 Durden, who quit Big Brother last week, also admitted in the News of the World to spending thousands of pounds on prostitutes just one week before he entered the house on 15 June.

Helen Calcraft, a founding partner of MCBD, said: "Jonathan has had to deal with more turbulence and tragedy in his private life than many of us can imagine. Clearly he needs to confront some dark demons and our only concern right now is for him to get well.

"The Big Brother experience has indeed come at a very high price for Jonathan, but he remains our colleague and our friend."