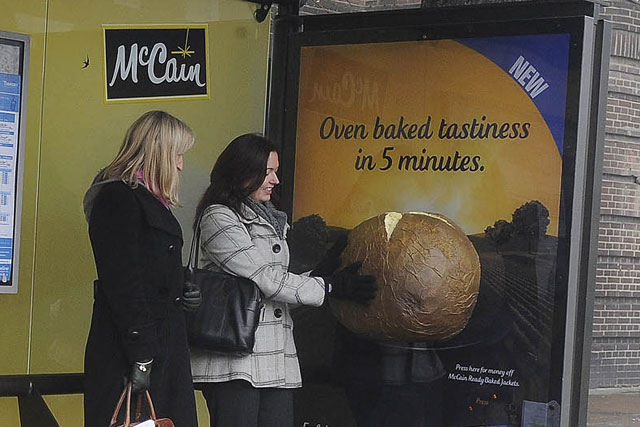 Six-sheets at the bus stops will be fitted with 3D fibreglass jacket potatoes, which on the press of a button, will heat up and emit the smell of a oven-cooked jacket potato.
They will be installed by the end of tomorrow.
The special six-sheets will also dispense money-off vouchers to encourage people to try McCain Ready Made Jackets, described by a spokeswoman as being a "media first".
In the wider campaign McCain is using traditional roadside six-sheets, point-of-sale six-sheets at Asda, Tesco, Sainsbury's and Morrison's stores and digital outdoor in rail stations.
The ad campaign was booked by Omnicom media agency PHD and Hyperspace, the innovation division at Aegis Media's Posterscope, through outdoor media owner JCDecaux.
The creative work was by ad agency Beattie McGuinness Bungay and the art director and copywriter was Jay Pond-Jones.
Rebecca Clay, media group manager at PHD, said: "PHD has a long heritage of media innovation and we're delighted to enable McCain to be the first brand to utilise this ground-breaking outdoor technology.
"In the chilly month of February, we hope that the warm, fresh-baked smell of jacket potatoes and the first ever bus shelter voucher dispenser will bring a smile to cold faces."
McCain's Ready Made Jackets claim to offer the smell and taste of oven-cooked jacket potatoes in just five minutes.
Mark Hodge, head of brand at McCain Foods, said: "McCain Ready Made jackets will revolutionise the way we eat jacket potatoes so this ground-breaking campaign provides the perfect advertising support.
"These outdoor specials are really going to stand out and drive sales by bringing the tasty oven baked smell to warm the consumer. We're adding a whole new meaning to try before you buy."
Follow Maisie McCabe on Twitter @MaisieMcCabe