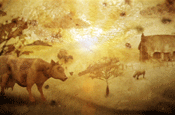 It has struck a deal with the JD Project to use its TV2 format, which recently won an international Emmy Award.

TV2 is an internet video format which allows viewers to interact with brands during the action.

Mike Walker, senior brand manager at McCain, said: "Consumers are increasingly turning to the internet for video and we believe that the potential for the conversion of existing TV commercials into the TV2 format is huge.

"By partnering with the JD Project we are fulfilling the promise of the internet by allowing users to completely engage in the brand, at their own leisure and in a format that they are completely at ease with."

The ad will be delivered through WeDigTV.com, a part of The JD Project's TV2 Network, an allegiance of sites and video networks.