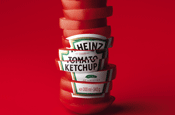 A spokesman for DDB Istanbul confirmed that its ad was created in 2004, ran locally and was entered for the New York Festivals awards as well as domestic awards schemes. The McCann
executive creative directors, Brian Fraser and Simon Learman, vehemently deny ever having seen the Turkish campaign.
Two weeks ago, similar accusations were levelled at Fallon for its "play-doh" commercial for Sony Bravia. The ad was accused of plagiarising the work of the US artists kozyndan.
To see the Tat ad,
click here
.