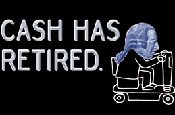 The four new executions feature historical figureheads, Charles Darwin, Adam Smith, Charles Dickens and John Houblon, as they appear on Bank of England banknotes.

However, the heads are attached to drawings of men partaking in activities usually reserved for pensioners, these include driving an electronic buggy, walking with a stick and tackling a word search puzzle whilst relaxing on a rocking chair.

All four executions run the headline 'cash has retired'.




Credits

Project name
Cash has retired
Client
Rita Broe, head of marketing UK & developed Markets, Ben Rhodes, business Leader, brand Marketing
Brief
Reposition the Maestro debit brand as the better way to pay for small value items
Creative agency
McCann Erickson
Copywriter
Matt Crabtree/David Chalu
Art director
Simon Hepton /Simon Friedberg
Planner (creative agency)
David Clements/Chris Gallery
Media agency
Universal McCann
Media planner
Ben Reilly/Alice Pott
Illustrator
Harry Malt
Retouching company
John Martin
Exposure
Posters