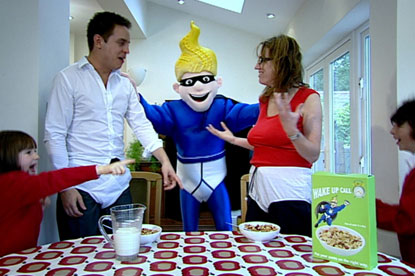 This time around it was McCann Erickson's turn to host the eager beavers and put them through their paces with a phoney advertising brief to flog a made-up breakfast cereal to kids.

It wasn't the simplest of briefs, which isn't a surprise since the producers of the show apparently encouraged the agency to make it as difficult as possible and try to ensure that the contestants trip themselves up.
In last night's episode, the two teams had to come up with a name, a box design and a character in two days - and make a presentation to the planning director, Nikki Crumpton, and the chief executive, Chris MacDonald, before having to impress Sir Alan Sugar.

One contestant found this a bit too much to handle and had to disappear off to the toilet beforehand to throw up.

The winning team came up with a Treasure Flakes concept, which was agreed had a good strategy behind it.

Meanwhile, the losers botched their attempt royally by focusing on a strategy that was based around pants, not the best link to make when taken colloquially - something Sugar instantly picked up on.

Diary heard a whisper that one scene that was left on the cutting room floor saw Crumpton giving the hapless team a good old-fashioned bollocking about coming up with such a lame idea - a view echoed by Sugar in the final cut.

However, it would seem that there weren't many in the agency who felt sorry for the contestants getting a good shouting at, with one insider describing them as "11 of the most heinous people you'll ever meet.

"They just chew each other up and spit each other out."