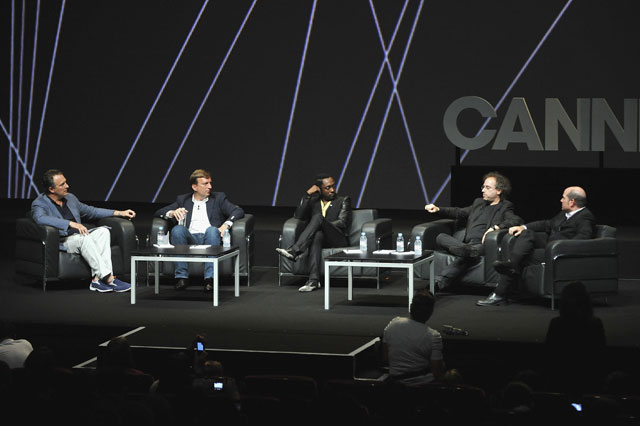 The pop singer said technological devices should have more than one function, like a smartphone or tablet, at the Technology Transforming Creativity seminar, chaired by Nick Brien chairman and chief executive of McCann Worldgroup
Will.i.am said as communities grow bigger online and the ability to interact becomes easier and quicker, TV no longer generates the talking points it once did.
He said: "Right now is a unique time. TV isn't what it used to be, it's now an old technology. TV was social media back in the 80s when you would watch it and talk about it. Devices should have more than one function, why do we still rock like it's the 1990s."
Also on the panel were: Tod Machover, the composer and inventor of music and media at Mit Media Lab and the man behind the Guitar Hero game; Marc Landsberg, chief executive of MRM Worldwide; and Johan Jervoe, Intel's vice-president.
Machover said the advertising community needs to take risks in the competitive social environment. He said: "The world is changing so fast are there are many people competing for your attention, therefore those in advertising can't be conservative about their message."
While Landsberg noted that at MRM Worldwide "we say technology is the new creativity quite a bit".

He said: "Almost every interaction from a marketing perspective between a brand and a consumer in some shape or form impacted by technology. Technology amplifies creativity and expands what it can mean."

Landsberg identified three pockets where technology had been having an impact: content creation, content distribution and content experience – meaning the way consumers can now engage and experience that creativity.
He added, with its ability to help people connect, to share and feel, that "in a funny way, technology almost makes it that much more human."

The implications for agencies was that all the young creatives in the world understand digital and technology, noting that "left and right brains are converging like never before".
He said: "Modern, smart marketing agencies have got to be able to link creation and conception in ways they've never done before."
Will.i.am referenced tablet devices as a technology that is moving people and communities forward and said the device is more powerful than TV and magazines, a concept advertising agencies are struggling with.
He said: "There is a major shift with what advertising agencies used to do and now. Advertising agencies are still important but they're trying to figure out what this new culture we're experiencing is about."
The pop star said brands will find success and increase in value if ad agencies use consumers as "agents" through using social media such as Twitter.

He described social media as a powerful tool for brands and a "concept of collective consciousness," which allows people to connect, collaborate and create communities.