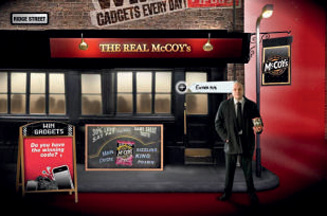 The site, developed by digital agency InboxDMG, centres on an interactive pub environment that takes the theme 'man crisps'.
It features ambient sound and moving characters, created using stock-frame animation. For example, an 'ugly' barmaid transforms into a 'beautiful' one when the visitor puts on a pair of virtual 'beer goggles', and a pub landlord introduces users to the 'Man guide: how to be a real man'.
Visitors to the site will be invited to enter 'manly' tips, with the winner receiving a year's supply of McCoy's. They can also take a quiz to find out how much of a man they are. Other games include a trivia quiz and darts. The site also offers access to McCoy's TV ads.
As well as highlighting the core range of McCoy's snacks, the site will support an on-pack promotion which launches on 24 May. The activity offers customers the chance to win 'man gadgets', including iPhones, PS3s and iPods, every day.
McCoy's, which is owned by United Biscuits, is the third-biggest brand in the UK bagged crisps and snacks market, with more than 5m packs consumed each week, according to its own figures.
The crisps brand is also the only one in its sector in the UK to be aimed exclusively at male consumers.