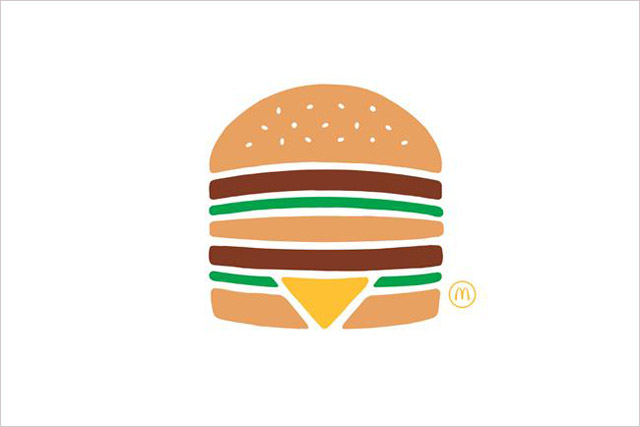 "a day in the life' (1990)
Directed by Tony Kaye, "a day in the life" was seen by McDonald's as a watershed campaign. The action in a McDonald's restaurant unfolds from dawn until dusk, with many different types of customer giving their orders straight to camera. The idea was to illustrate how McDonald's touches many lives in just one day.
"birds and the bees" (1995)
An observation, shot by Simon Cheek, of a flustered dad using the promise of a trip to McDonald's to avoid the dreaded "where do babies come from?" question from his daughter.
"clever daddy" (1997)
Again with Simon Cheek directing, this spot shows one not-so-clever daddy criticising his mother-in-law's cooking, unaware that a baby monitor is broadcasting his comments.
"estate agent" (1998)
This shows an estate agent only having to open and shut a door in a property to earn enough afford a 99p quarter pounder from the Saver Menu. That was the 1990s though – he would barely have to touch the door handle these days. Justin Tindall, Leo Burnett's executive creative director, says: "9.99 on the degree of difficulty scale, this campaign is ten seconds of lateral genius that still make me jealous today."
"being six" (1998)
"Being six" marked a very different direction for the brand's advertising. Filmed in black and white, and directed by Tarsem, the spot reminds its audience of the everyday trials and tribulations that kids have to endure.
Tindall comments: "Shot 16 years ago, but this ad just doesn't date. The quality of observation, casting and use of black and white make it a film that you could literally run again tomorrow and nobody would question it. The wipe to reveal the title at the end is pure genius. Tarsem at the height of his powers."
"planting" (2008)
This was the first ad in the "that's what makes McDonald's" campaign, talking to parents about the quality and provenance of McDonald's food. Directed by Tony Barry, the ad went back to basics, telling the story behind the beef, chicken and potatoes that McDonald's uses to make its burgers, Chicken McNuggets and French Fries.
"just passing by" (2009)
The "there's a McDonald's for everyone", campaign, directed by Neil Gorringe, centred on a narrated ode to McDonald's and its wide variety of customers.
"we all make the games" (2012)
For the 2012 Olympics, McDonald's aimed to reflect the mood of the nation by focusing on the role that the British public, the Games Makers, McDonald's crew and visitors from all over the world were playing in the Games. This also marked one of the biggest-ever media buys behind a sponsored event. TV was just one part of this integrated campaign.
Tindall has fond memories of the campaign, saying: "Over those unforgettable two weeks in 2012, we played out five different 60-second films that were all shot, then written, edited and played out in real time to tell the story of the Games as it unfolded. One of the most challenging and rewarding things that I've ever been involved with."
"Dave" (2013)
In this spot, directed by Vince Squibb and under a new banner of 'we all have McDonald's in common', a single mum asks her boyfriend Dave to move in with her and her children. Her son reacts indifferently to his attempts at establishing a relationship, until a chance remark and a trip to McDonald's.
"hunter gatherer" (2014)
This ad, which came out this summer as part of the long running "favourites" campaign, focuses on the fact that McDonald's is there for its customers anytime, day or night. The ad, directed by James Rouse, follows a young father-to-be on a late night hunt for something to satisfy his pregnant partner's food cravings.
McDonald's has used four advertising agencies in its 40 years in the UK, beginning with an eight-year relationship with Colman & Partners that ended in 1982. DMB&B and Saatchi & Saatchi followed, before the appointment, in 1986, of Leo Burnett.