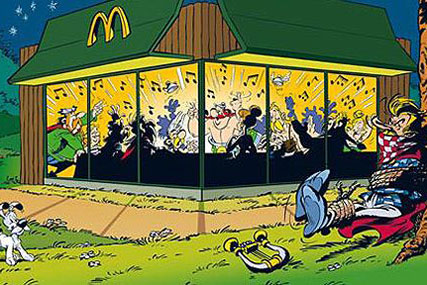 The poster ad, created by Euro RSCG for the French market, shows Asterix and friends celebrating one of their famous banquets by eating a burger and fries at the fast-food chain.
The comic book's usual village banquet consists of ale and wild boar.
The ad forms part of McDonald's "Come as you are" campaign.
One outraged blogger called sirchmallow said: "My childhood hero sacrificed like a wild boar! What next? Tintin eating at Subway?"
A comment posted on Twitter read: "How ironic, the indomitable Galus making an advert for the invaders."
The other ads in McDonald's "Come as you are" campaign include Cinderella pulling into a McDrive on a pumpkin.
The fast-food giant has been subject to anti-American sentiment in France and some critics view it as personifying homogenised culture.
Asterix, on the other hand, is regarded by some as signifying France's rebellious spirit.
McDonald's was unavailable for comment.