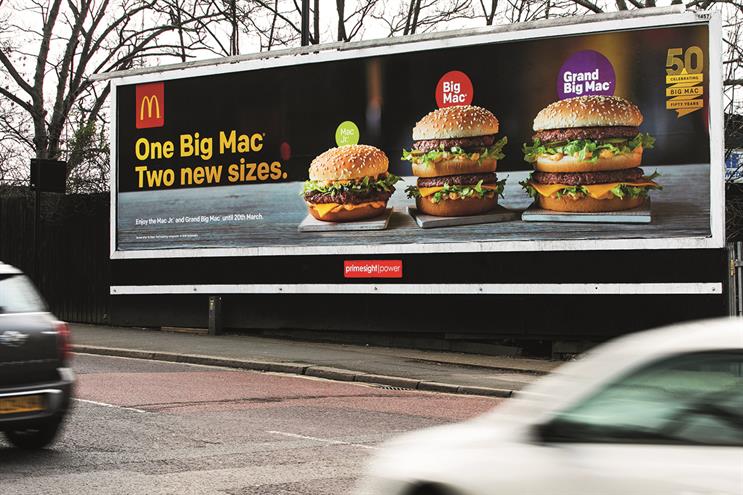 David Peters, head of planning, Primesight
| | | |
| --- | --- | --- |
| | | Index* |
| 1 | McDonald's Signature Beef Small- and large- format roadside | 185 |
| 2 | McDonald's 'BIG MAC' Mac Signature Beef Small- and large- format roadside | 185 |
| 3 | Halifax Large-format roadside | 138 |
| 4 | Cancer Research UK Small-format roadside | 135 |
| 5 | BT Broadband Large-format roadside | 133 |
| 6 | GIFFGAFF Bus | 132 |
| 7 | Peter Rabbit (Sony Pictures) Small-format roadside | 124 |
| 8 | NOW TV Large-format roadside | 123 |
| 9 | Red Sparrow (20th Century Fox) Large-format roadside and bus | 121 |
| 10 | Virgin Media Large-format roadside | 118 |
The Big Impression's latest results show that brands that use out-of-home with a consistent message build the most significant recall and saliency.

McDonald's has focused on delivering prominent cover and store proximity for years, and the message isn't losing its appeal. It's been great to see how the famous "Grand Big Mac" has been displayed on OOH, the most democratic media channel. There can be little doubt that broadcasting this iconic product on billboards has been key to its high recognition.
Halifax and Now TV also invest in large-format roadside to broadcast their message and their consistent approach has yielded positive results. OOH's versatility is demonstrated in its ability to both build long-term brand recognition and build fame quickly, as evidenced by the inclusion of films Red Sparrow and Peter Rabbit in the list. Those who work in OOH are often modest about its arsenal, but these results show the medium is in rude health when you want to build fame quickly or saliency over a longer period.

OOH's versatility is demonstrated in its ability to both build long-term brand recognition and build fame quickly
This chart lists the out-of-home campaigns which had the greatest recall in the period 12 February - 11 March 2018. All data supplied by Opinium opinium.co.uk