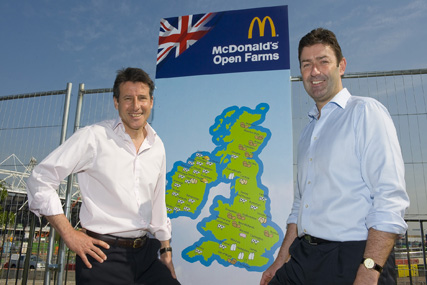 The campaign will feature farmers and key ingredients McDonald's currently sources from British farms, such as beef, milk and eggs.

It will focus on how those ingredients will be used by McDonald's to feed people over the four weeks of the Olympics, for which its restaurants are an official partner.

The fast-food chain will also encourage people to visit its supplier farms in an attempt to showcase its concern for welfare and sustainability.

It also plans to offer support to the farming community by sponsoring agricultural shows and awards.

Steve Easterbrook, UK chief executive of McDonald's, said: "Farmers don't have a marketing department. McDonald's can act as one for them."

At a press conference to announce the initiative this morning, Seb Coe, the chairman of the London Olympic Games Organising Committee, said: "We want to enhance everyone's experience of the Games by celebrating the great diversity and quality of British food on offer.

"The sheer scale of providing 14 million meals in just four weeks means this is a genuine opportunity for British agriculture.

"The strong partnerships McDonald's has built with British agriculture will help us deliver the food vision we have set out for the Games and help us deliver an Olympic legacy for farming."