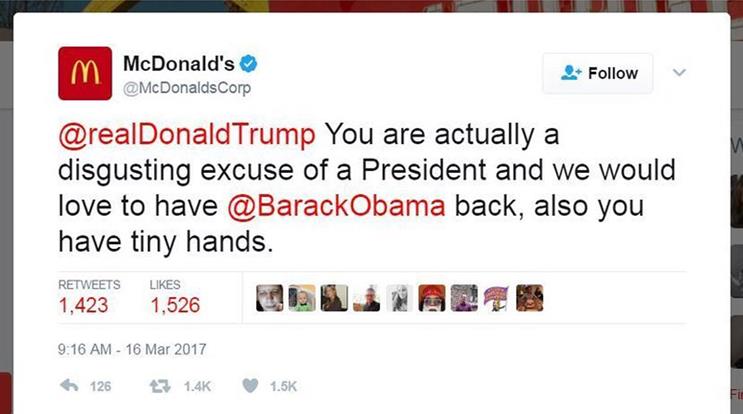 The offending tweet read: "You are actually a disgusting excuse of a President and we would love to have @BarackObama back, also you have tiny hands."
The post appeared today just after 1pm GMT, and was quickly removed. Around an hour later, the account posted this:
Twitter notified us that our account was compromised. We deleted the tweet, secured our account and are now investigating this.

— McDonald's (@McDonaldsCorp) March 16, 2017
The original message has inevitably drawn a wide array of messages, with some angry Trump supporters vowing never to visit the fast food chain again.
Looks like the people at @McDonalds aren't so open minded and tolerant to American democracy. Bad move targeting over half of the country! pic.twitter.com/JNqRmW2Wta
— Truth Bombers (@Truth_Bombers)
March 16, 2017
#mcdonalds McDonald's calling someone disgusting is crazy. Look at your food and your workers. Guess you hate money.

— Fred Koerber (@KoerberFred) March 16, 2017
McDonald's Twitter Account Hacked, Police Release Photo of Suspected Hacker#McDonalds pic.twitter.com/PBU6NN4eM9

— Unless.... (@blackdoglurking) March 16, 2017
nice "burn" @McDonalds but if you really want to resist Trump you'll pay a living wage on a global scale & encourage your people to unionize

— jim onclise (@redstatist) March 16, 2017
In the Current Year, the American Right is beginning to look to Evola and the American Left's champions are the CIA and McDonald's.

Wew.
— Virginia Dare (@vdare)
March 16, 2017