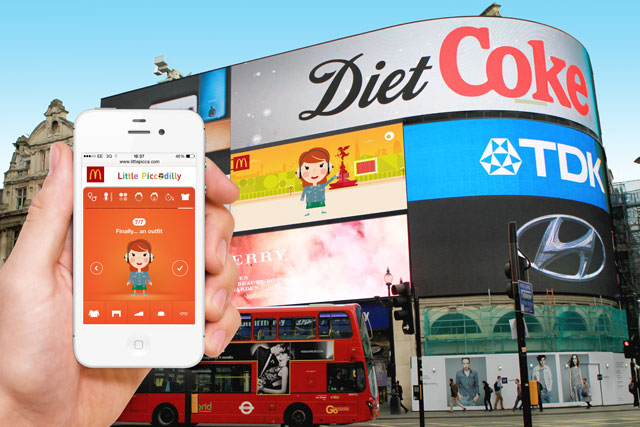 Leo Burnett, the fast-food company's creative agency, has created a fictional world called "Little Piccadilly".
As people pass the McDonald's screen, they will be invited to create their own animated character on the website LittlePicca.com and send it to the screen through their smartphone. The character will then appear on the screen in "Little Piccadilly" shortly afterwards.
The characters will be rotated on the sign, meaning each character effectively becomes a permanent resident on the sign. The sign will work 24/7, 365 days a year and the background will change to reflect the real-time weather and season conditions, such as rain, sun, night.
The agency claims this will make it the world's first digital advertising screen to be fully interactive.
The new creative was unveiled yesterday. For the past week, the sign was hidden from view by a digital curtain while the team tested the technology.
The creative was devised by Leo Burnett's Pansy Aung and Anna Sweet, developed by Amanda Julius and Elisa Frediani, with creative direction from Charlie Martin and Ben Lunt, and art direction from Russell Brown.
The illustrator Stanley Chow designed the characters and Pirata London and Holler handled the front-end development, with the back-end development by DEP.
McDonald's says this new sign reflects the "democratic values" of its brand, by allowing everyone to make their mark on one of the world's most visited places.
There are more than 300 million possible combinations of illustrated artwork and animations, so the same thing will never be shown twice.
Little Piccadilly is a long-term initiative and the agency plans to add new functionality over time, such as messaging and real-time games.
Nathalie Pomroy, the director of marketing at McDonald's, said: "Little Piccadilly is the next step in McDonald's digital journey, allowing people to interact with this iconic landmark in a unique and exciting way.
"We hope that passers-by will enjoy the fun interactive elements of this, creating their very own Little Piccadilly resident for all to see.
"We have embraced recent innovations in the digital media field, and as new trends develop and as the interactive media industry reaches maturity, we will continue to look for innovative ways to communicate with our customers."
This article was first published on Campaignlive.co.uk